Apple Posts Record $46.33 billion Quarter with Record iPhone, iPad, Mac Sales
Apple's fiscal 2012 first quarter financial result for the 14 weeks ended December 31, 2011.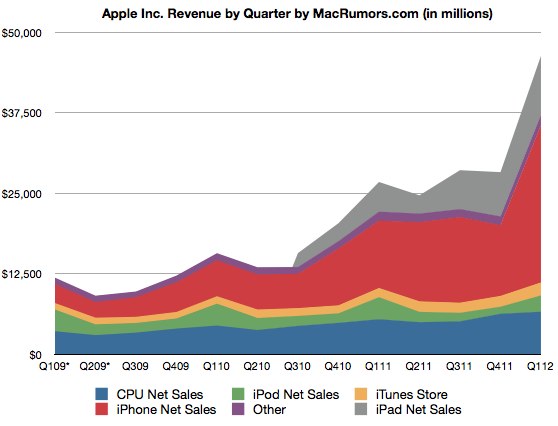 Apple announced "All-Time Record iPhone, iPad and Mac Sales". The Cupertino company sold:
37.04 million iPhone, 128% growth over the year-ago quarter
15.43 million iPad, 111% growth
5.2 million Mac, 26% growth
15.4 million iPod, 21% decline
Apple earned $13.06 billion dollars in net profit on $46.33 billion revenue. Not a surprise, considering everybody from HP chairman, HTC Chairwoman, Tom Brady, Taipei 101 skyscraper chief architect, James Bond to Zuckerberg's dog are now using Apple tablet, computer, and phones.
Revenue chart by Macrumors

Related Posts