Action Figure Doll: Apple Vows To Kill Steve Jobs Off Again!
As you can see in the above news video, there is now a freakishly accurate Steve Jobs figure that should be hitting the market come this February. That is, if Apple's legal team doesn't stop them first!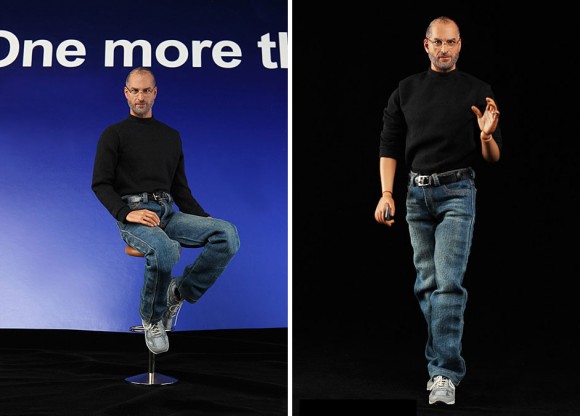 The Steve Jobs action figure is from inicons.com, and boy, oh boy does it look real! In fact, the photo above, from the Telegraph, was one that I, at first glance, mistook for the real deal… Steve Jobs himself. As you can see from the video below, the makers did a fantastic job of recreating the master himself.
Personally, I hope that Apple doesn't stop this thing, because I for one would love to get my hands on one, and as I wrote on my own little blog:
"No, I really can't afford to pay $100 for any action doll, not even of Steve, but in his case, if I could I would. I'd just love to have a Stevie action doll posing next to my computer, defending it from all of the evil world of virus's, trojans, Windows, Android and all other computer evils! Presently, I only have my little stuff cow, Miss Moo Moo guarding my computer. Yes, she's a cutie pie, but when it comes to defending my beloved computer from the evils of computing, not so much!"
[Editor's note: updated Don's image with better images from product creator's site. Most quotes from Steve Jobs' Stay Hungry, Stay Foolish Stanford commencement speech. And here's the previous time when Apple killed the original Steve Jobs action figure.]

Related Posts