3D Planet Minesweeper for iPhone + iPad [Review]
Minesweeper game goes 3D, with music! This Universal app for iPhone, iPad and iPod touch is on sale right now.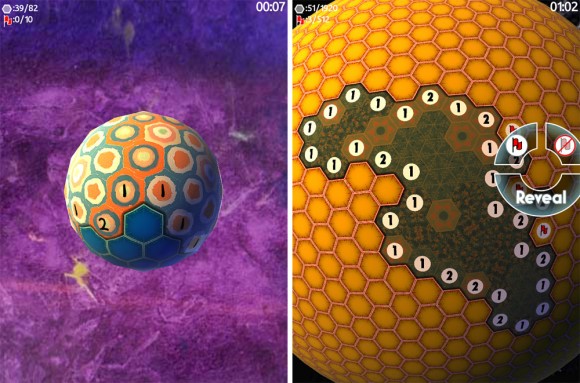 Review based on Planet Minesweeper [App Store] version 1.0. Tested with iPad. Normally $0.99, currently free for limited time.
Game play is like the classic minesweeper. The numbers show how many bombs are next to it, and a player would use logic to figure out which blocks can be cleared and which blocks should be flagged for mine.
Difference between this iOS app and the old-school minesweeper app is that instead of sweeping a flat board for mines, you are clearing a round planet.
How to play
Double click block to reveal
Tap and hold to flag or un-flag a mined block
Touch and drag to rotate the planet
Pro Tip: Double tap on already revealed space to show reveal all unflagged neighbors (but you have to make sure you have flagged all mines)
Planet Minesweeper Review
What we like:
Beautiful art, different planet has different art and music. NO FUGLY
Nice auto-clear animation, which allows gameplay while animation is playing
Small to huge levels with various difficulties. Easy on the left, and challenging on the right
Plenty of replay value
Giantormous planets bonus levels for iPad users
Needs improvement:
Does not show cleared level / planet. Does not offer "next level".
No game pause or option to go to menu during game, unless you blow up. As a kludge, you can pause the game by hitting the home button and go back with multitasking.
Scrolling physics needs improvement.
For example, while holding down to scroll, if your finger scrolls off planet, it snaps back. The whole screen should be usable for scroll when touching the planet.
No momentum scrolling. Can't flick and see the planet spin
No need to see splash screen when multi-tasking switching back
Difficulty seems to be random. Number of bombs are random and varied too much (one small planet had 11 then 18 the next game). Bombs should be of very similar number per planet, otherwise scoring is useless if difficulty is varied
Has Game Center ranking but not visible within game
Verdict? Planet Minesweeper is worth the regular price of a dollar if you are a huge minesweeper fan, especially if the developer improves the scrolling physics.

Related Posts