2009 Called: Eye Controlled EyeWriter Mac App [Videos]
Forget Tobii eye tracking. Here's an open source Mac App made in 10 days in 2009 and already featured in Time magazine as 50 best inventions of 2010 and MOMA in 2011.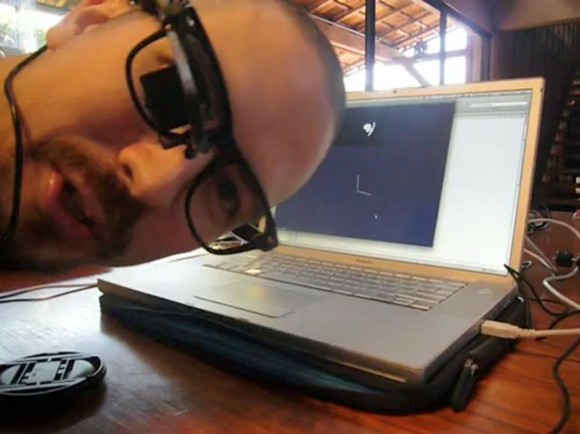 Video: EyeWriter, Developed on Mac
LA graffiti writer Tony Quan / TemptOne was diagnosed with Amyotrophic lateral sclerosis in 2003, a disease which left him paralyzed. But a number of artists came together to create this technology so Tempt1 can draw.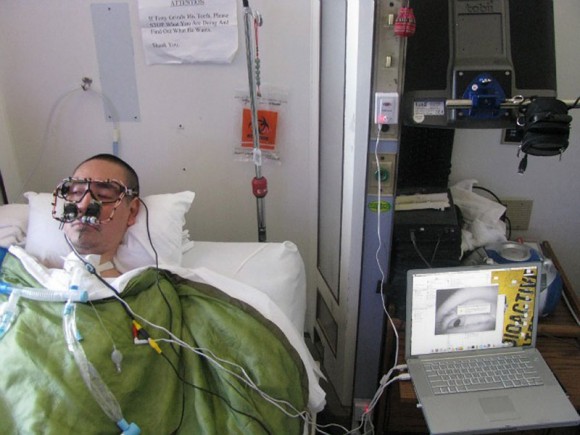 Free Art and Technology, F.A.T. / fffff.at, reports on ten days of EyeWriter version 1 development:
"It is a low-cost eye-tracking apparatus + custom software that allows graffiti writers and artists with paralysis resulting from Amyotrophic lateral sclerosis to draw using only their eyes. […]

In August of 2009, artist from around the world: London, Hong Kong, Madrid, Amsterdam and New York City, converged for 10 days in southern California, converted Mick and Caskey Ebeling's Venice Beach house into a laboratory and began to work with Tony on a low-cost, open source eye-tracking system that would allow ALS patients to draw using just their eyes."
Comparable systems of the time were more expensive, bulkier, and took longer to develop. Original EyeWriter used only about a hundred dollars in parts including a hacked PS3 Eye.
Here are some videos of EyeWriter under development and in use.
Video: EyeWriter Version 1
Day 1, March 30, 2009, James Powderly writing a G on a Mac with his eye:
Day 7, April 5, 2009, more EyeWriter app development using Macs:
Few days later, here's Tempt1's writing "his first letters in seven years… with his eyeballs". Paralyzed Tony "TemptOne" Quan uses EyeWriter to draw an Eye-Tag on a building using light projection:
"The EyeWriter core development team consists of Zach Lieberman, Chris Sugrue, Theo Watson, James Powderly, Evan Roth, Tony Quan & The Ebeling Group.

Made possible through support from the Not Impossible Foundation and Parsons Communication Design & Technology."
Evan Roth is one of the contributors of Graffiti Analysis (with its own iPhone app), which we covered earlier.
Video: 2009 EyeWriter Technology Demo
Mac demo by Zach Lieberman.
Video: EyeWriter 2.0
But it seems that EyeWriter can only draws squiggly lines? How is it useful? Here's a new version co-created by Keith Pasko that allows creation of straight lines and coloring:
Above video by Theo Watson, who also created / modded XBox Kinect running on OS X ( with source code ).
Video: EyeWriter 2.0 with Robot Arm Eye Control
How to Make EyeWriter (Code Download)
Want to make your own? ObamaPacman found a few places you should look:
EyeWriter.org suffered a malware attack recently, but the site just came back
Instructables from 2009, showing how to make EyeWriter using a hacked PS3 Eye
EyeWriter project code on code.google
EyeWriter Cinekid Robot code on github
I first heard about this few months ago on a visit to Parsons, The New School for Design in New York City. Seems a bit more interesting than Tobii isn't it?
Parsons notes the cost for an individual to build EyeWriter 2.0, which uses a camera and LED system mounted away from the head:
This eyewriter system is cheap, and completely open source. At the moment, it costs about $200 in parts. Traditional commercial eye trackers costs between $9000-$20,000, so this is a magnitude of order cheaper, and is designed to help anyone who wants or needs an eyetracker.
Amazing. It is almost three years later, so I wonder what the EyeWriter team can do with the latest HD camera?

Related Posts