How to: Turn Off Facebook Location Posting [Privacy]
This week, Facebook started posting your location without op-in. How do you turn it off?
How to disable auto Facebook location posting:
1. Click on "Update Status" (see red arrow below)
2. Click your location (example shows San Francisco) and click X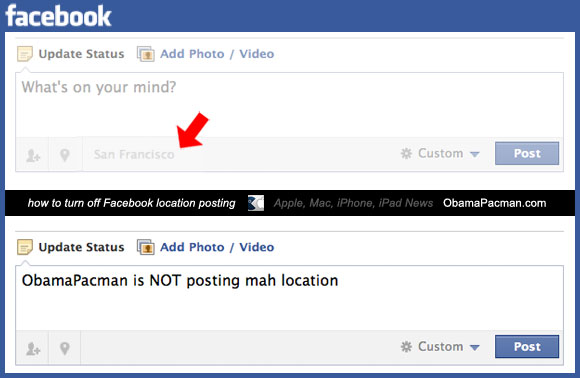 Although it only posts the nearest major city (using the city from your profile, and not your private GPS coordinates at this time), this could be another breach of user privacy violation.
Do companies just not learn from their mistakes? Last month, Google deceptive privacy practices also resulted in 20 years of future FTC monitoring. It was only weeks ago that FTC accepted a settlement for Facebook privacy violations.
In contrast, most services, including Twitter makes location posting op-in. Not cool Facebook.
Like this story? Follow @obamapacman on Twitter or like us on Facebook.

Related Posts