Tom Brady + Gisele Bundchen use iPhone 4 [video]
Super Bowl / American football champion Brady and supermodel wife Bundchen using Apple iPhone.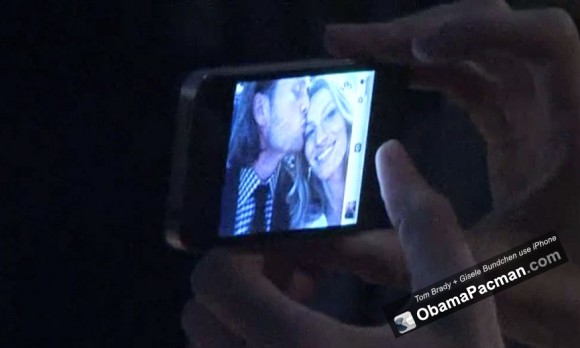 Previously, we covered Tom Brady uses iPod + Gisele Bundchen uses Mac, but what phone do they use?
Video: Gisele Bundchen + Tom Brady Use iPhone 4
Patriots' quarterback Tom Brady is seen taking a portrait with his supermodel wife Gisele Bundchen with an iPhone 4.
Video by Bigbangforever who described it took place at the United Nations Environment Programme (UNEP) Champions of the Earth Awards. The ceremony took place in May 2011.
Video: Gisele Bundchen, UNEP 2011 May
ObamaPacman found this video of the event, where Gisele Bundchen presented an award to Ms. Angélique Kidjo for Inspiration & Action:

Related Posts