The Life of Steve Jobs, Infographic
Life and legacy of a man who strived to make a dent in the universe.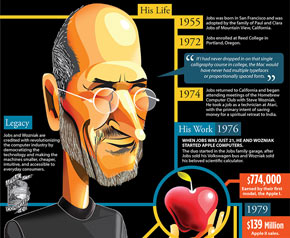 Beautiful work "The Life And Times Of Steve", created by infographic world, covering from birth of Steve Jobs in 1955 to his passing in 2011, with major professional and personal milestones of Jobs.
"Jobs and Wozniak are credited with revolutionizing the computer industry by democratizing the technology and making the machines smaller, cheaper, intuitive, and accessible to everyday consumers."
Note: Click on image for zoom mode. CLICK AND DRAG to move. Or right click and "open link in new window"

Steve Jobs did make a dent in the universe.

Related Posts