RIM CEO Lazaridis Contradicts 2011 Q3 Financials Press Release
RIM announced that it lost $485 million in 2011 Q3 due to its pointless PlayBook tablet. But how is its Q4 outlook?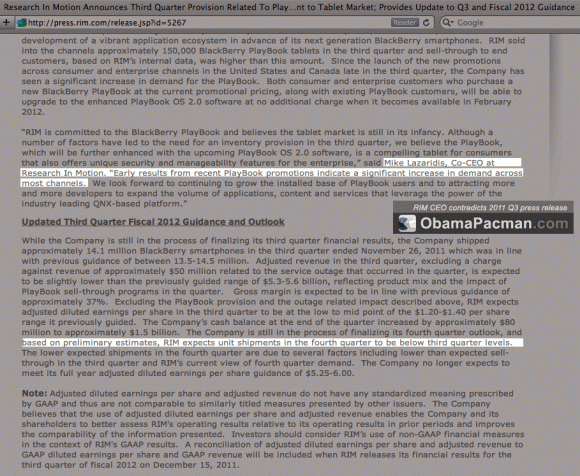 Mike Lazaridis, Co-CEO at Research In Motion announced in press release:
"Early results from recent PlayBook promotions indicate a significant increase in demand across most channels."
However, just one paragraph down, the RIM press release notes different expectation that the CEO's words. Shipment for the holiday quarter, a time when most companies post record sales:
RIM expects unit shipments in the fourth quarter to be below third quarter levels.
Looking at the history of three generations of RIM vaporware, it's not the first time Lazaridis is wrong. But at least they are finally selling a tablet.
Here are the facts about Playbook shipment into channel inventory: Q1 500,000, Q2 250,000, Q3 150,000. That surely shows the "increase in demand". In strong contrast of under-one-million RIM tablet "shipped" to channel inventory over 3 quarters, Apple sold 11.12 million iPad in the most recent quarter.

Related Posts