New York City Apple Store Grand Central [video + unique aspects]
Largest Apple Store in the world opening this Friday at the historic Grand Central Terminal, with DOUBLE Genius Bars. Plus other unique aspects of this flagship store.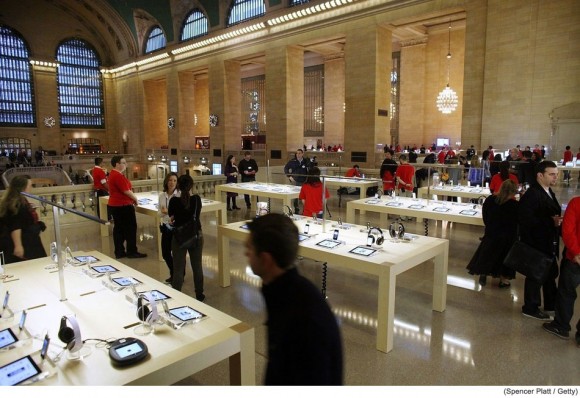 Apple Store Grand Central will have its grand opening this Friday, December 9, at 10 a.m. Announcement:
This one-of-a-kind Apple retail store overlooks the historic Main Concourse from the East and North East balconies of the world-famous Grand Central Terminal, and has two Genius Bars for free tech support and advice.
ObamaPacman is guessing one Genius Bar is for iOS devices and one for Mac.
The Apple Store will also offer 15 minute Express Workshop, Personal pickup, and dedicated rooms for Personal Setup + Personal Training. The store has 315 expert employees.
Store hours of the high traffic station is not 24 hours like the 5th Avenue glass cube Apple Store though. Hours: The Apple Store Grand Central will open from 7 a.m. to 9 p.m. Monday through Friday, Saturday 10 a.m. to 7 p.m., and Sunday 11 a.m. to 6 p.m.
Unique Aspects of Apple Store Grand Central

Due to the historic nature of the building, Apple had minimal ability to install / alter the existing construction at this flagship location. That lead to unique aspects of the Apple Store Grand Central:
Apple logo + Genius Bar displays installed on glass walls
LED table lights (for areas without ceiling mounted track lightening)
Multiple rooms (most Apple Stores minimizes walls, except at historic locations)
Open to tall historic atrium


First three photos Spencer Platt/Getty via Buzzfeed.
Video: Apple Store Grand Central Preview
Video by pelmerdewitt:
Shot from the south end of the east balcony to the west end of the north balcony.
Video shows enclosed sound room, personal set up room, iPad displays, express checkout with a giant Apple logo, Mac displays, enclosed personal training room, Genius Bar, and more Macs.

Related Posts