Rare 18-foot Great White Shark Video Filmed with iPhone 4S
Jaws sighting in real life… Someone's gonna need a bigger boat.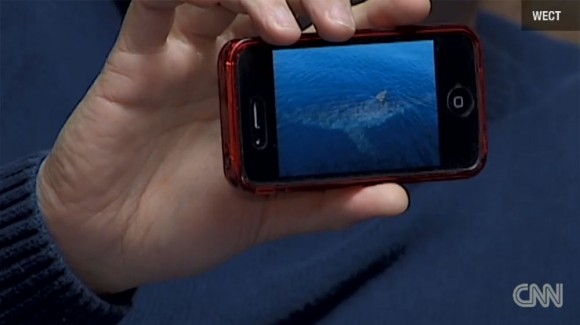 Previously, iPhone jumped HTC shark. Now, iPhone user lives to show his great white shark encounter.
Video: Great White Shark Recorded iPhone 4S
It looked like two dolphins, but the giant fish turned out to be a rare great white shark. Bostonian Matt Garrett filmed the sighting with his new iPhone 4S near Wrightsville Beach in North Carolina:
This great white circled our 21ft boat for 20 minutes and made contact with the boat (slapped its tail on the boat). We were about 25 miles southeast of Wrightsville Beach.
WECT and CNN only posted low quality version of the video, so ObamaPacman found the original video:
Video: 18-Foot Great White Shark Sighting, Matt Garrett
Some NSFW language in the 1080P HD video.
Perhaps professional photographer Annie Leibovitz's iPhone recommendation is onto something. Great white sharks are hardly ever caught on tape, Paul Barrington from NC Aquarium noted.

Related Posts