Mac Entrepreneur Uses Baking Tray to Boost Wi-Fi Signal
How to improve wireless internet signal using a simple kitchen tool.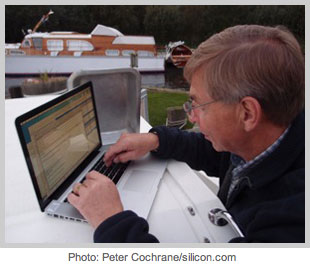 Forget wardriving. From a boat, Peter Cochrane of Silicon.com describes how he improved low wifi and low cellular data reception. He was "surrounded by water" so he improvised Macgyver style:
A visit to the galley turns up a much-used baking tray. A few simple experiments later and I'm able to locate the direction of the 2.5G base station and the strongest wi-fi signal.
It seems that he put the tray behind the wifi antenna, to beam the signal to one direction. And supposedly it works. (Celebrate by singing I'm on a boat parody).
Hope that boat doesn't move. If this wacky method does not work, you could built / buy a parabolic reflector or high gain directional antenna [$99 with USB
].

Related Posts