iPhone Copy Stand: Modahaus Steady Stand
Neat iPhone product photography stand with integrated light diffuser.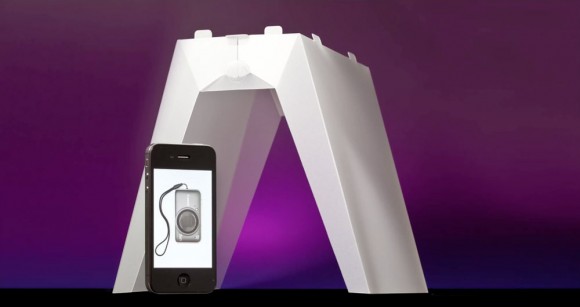 Video: Modahaus iPhone Copy Stand
Photo accessory maker Modahaus:
The STEADY STAND provides an elevated platform support for overhead product photos ensuring pin sharp, totally square-on, precisely composed, perfectly exposed photos. The clear translucent side walls soften and diffuse incoming light helping eliminate harsh shadows and provide clean uncluttered reflections in shiny subjects such as jewelry.
The company is adverting compatibility with other devices, but its useful product guide shows it's designed for fast iPhone photography (even the iPhone 4S):
A nifty feature of the Steady Stand for all iPhone users is automatic lens centering on the copy board. If you position your iPhone flush against the bottom and left hand side corner tabs, your iPhone lens is automatically centered over the copy board beneath. This works for all iPhones from the original to the iPhone 4S.
Another neat idea Modahaus provided in its guide is to use a cup with a handle for a macro copy stand. Steady Stand is also compatible with a number of point and shoot cameras with 65mm max compact camera lens diameter.
Modahaus Steady Stand 200 is £24.99 in UK. £30.83 ($48) shipped to US.
[via macnn]

Related Posts