iOS 5 Untethered Jailbreak, Video Demo
Demoed by French iPhone hacker / jailbreaker Pod2G.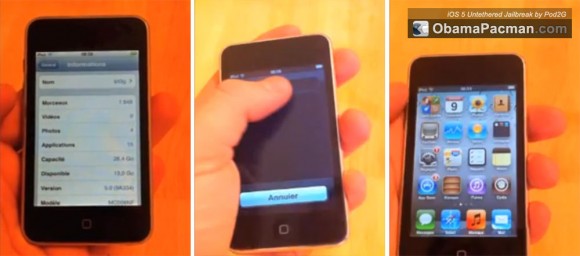 Video: Pod2G iOS 5 Untethered Jailbreak
In the video, Pod2G shows his iPod touch 3rd generation running on iOS 5.0, rebooting it, and then access Cydia without connecting to a computer. (Pod2G runs the device in French! Seen in one of the screens is "Annuler", French for cancel.)
The untethered jailbreak has no release date and doesn't work on iOS 5.0.1 yet, but he's working on it. Pod2g' new blog:
I can't give much details right now, but here are the next steps :
- upgrade the iPod 3G to iOS 5.0.1
- do the same on iPhone 4 / iOS 5.0.1
- then iPad 1 & iPod 4G
Currently iOS 5 jailbreak is tethered, which means you need a computer to re-jailbreak again upon each reboot. (Unless you use the semi untethered iOS 5 jailbreak fix that allows basics functions upon reboot).
Note that he is NOT working on iPhone 4S or iPad 2 iOS 5 jailbreak at this time.

Related Posts