How to Lose Money Buying $300 iPad 2
Think some shady folks are giving you a great deal on questionable / stolen merchandise? Think again.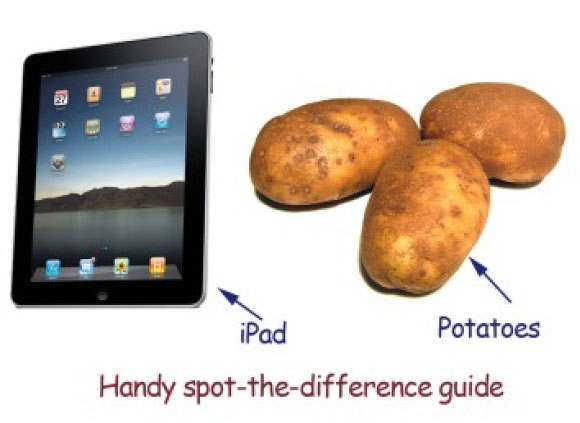 No matter if the price is $300 or another price, if a deal is too good to be true, it probably is.
Robbery, Philly:
Philadelphia police arrested three men who advertised $300 iPads for sale on Craigslist, arranged to meet two would-be buyers in Southwest Philadelphia Sunday night and then robbed them at gunpoint.
Wood iPad, Grand Prairie, Texas, Macrumors report:
A car load of two or three males will pull up to someone at a convenience store or shopping center parking lot and it's "Pssst, hey buddy. Want to buy an Apple iPad or MacBook?" They will tell the victim they are for sale for $300 each or both for $500. The Apple products are actually painted wood or loose leaf note books with the Apple logo on top and wrapped in bubble wrap. They are in a Fed Ex or Best Buy box and sealed up with tape. By the time the victim figures out the purchase wasn't what they bargained for, the crooks are long gone.
More robbery: If you are buying or selling things on Craigslist, meet in a public place. This summer, San Diego police arrested a man who robbed potential iPad buyer / sellers.
Potatoes in iPad box, in UK, West Yorkshire Post:
POLICE have issued a warning over a scam after a 31-year-old man was tricked into paying £200 for an iPad which turned out to be a bag of potatoes.
And don't buy any of these:
Well, despite these outlier cases, you can still buy iPad and other products safely on Craigslist. ONE: Read up on white van speaker scam (and other confidence scams) on how scammers trick people to buying fake products. TWO. Just make sure to meet in a public place and test the product first.
PS. You can occasionally find original iPad from $299 and iPad 2 from $449 at the Apple refurb store. (Refurb iPad 2 are in stock right now!)

Related Posts