Flipboard for iPhone / iPod touch [video]
Originally created for iPad, Flipboard personalized magazine app (with Twitter, Facebook, Instagrapm, etc. support) now available for iPhone and iPod touch.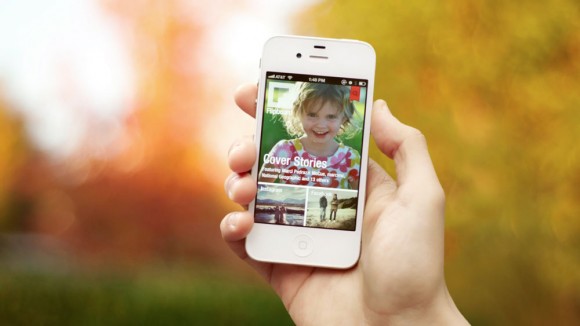 Video: Flipboard iPhone + iPod touch App
Download Flipboard on [App Store]. Very cool, free, no ads.
Named Apple's iPad App of the year and one of TIME's Top 50 Innovations, Flipboard creates a personalized magazine out of everything being shared with you, from Instagram photos and Facebook updates to Tumblr posts and articles from your favorite publications. Fill Flipboard with the things you like to read, from the smallest blogs to publications like Rolling Stone or Vanity Fair, and use Instapaper or Read It Later to save articles to read later. Connect Flipboard to all your social networks, and you'll have a single place to enjoy, browse, comment on and share all the news, photos and updates that matter to you.

New to Flipboard on iPhone is Cover Stories, a selection of interesting articles and photos being shared with you right now. And it gets smarter every time you use it.*

*Coming soon to iPad.
This amazing app is for Apple iOS only.
Note: Due to demand, Flipboard announced it is halting new user setup at this time until server load issues are resolved:
All existing Flipboard iPad users are able to enjoy Flipboard and anyone who has created a Flipboard Account on their iPad can launch Flipboard for iPhone and sign in to get all their favorite Flipboard content. For brand new Flipboard for iPhone users, we are still seeing server load issues that cause an error message when people try to set up. We are working on the server balancing and expect to have another update soon. Thank you for your patience.

Related Posts