Are Wearable iPods And iPhones Coming?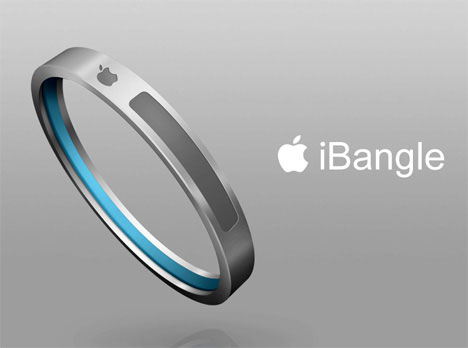 The above illustration, by Gopinath Prasana, via Slashgear, shows an iPod that you simply wear around your wrist. It's just a mock-up drawing, of course, but Slashgear is contending that Apple is actually working on such an iPod as we speak.
Apparently, Apple engineers are working on a wearable iPod with a curved glass screen, and it would be a device that is activated and controlled via Siri, allowing for it to be, naturally, a totally hands-free device.
Personally, ever since people started to come out with armbands that allow you to wear your iPod touch or iPod nano as a watch, I assumed that Apple would jump in and go the extra step of anything these third party accessory OEM'S are now offering. Now, it's beginning to look like I was right on the money. Slashgear's post is based on a post in one of the New York Times tech blogs, called Bits, and one of its writers, Nick Bilton, wrote:
"Technology often has a way of fixing the problems it creates. Here's one that needs solving.

The invention of the smartphone has created a world where millions of people stroll through life constantly staring into a mobile device, like Narcissus at the edge of a pond.

I know. I'm one of them.

People are not going to put these devices down in the near future. Realistically, we will become only more absorbed by the Screen. Technology will have to solve this problem. It will do so by creating wearable computers."
A wearable iPod would be the first of such devices, at least for Apple, but I'm predicting that it won't be the last. I can imagine wearable iPhones, and other such contraptions will surely follow, and they will, as Nick Bolton suggested, most likely change the entire face of fashion as we now know it in the process.
Apple, of course, won't be alone in bringing wearable gadgets to market, as Slashgear points out below:
"Apple has competition, however, with Google also working on its own wearables tech. The search giant's so-called X Labs employs programmers, engineers and others formerly of Microsoft, MIT and Nokia Labs and is working on the "internet of things" or an interconnected mesh of network-enabled gadgets, sensors, devices and more. They, sources claim, would be able to whisper back details to your Android smartphone."
Whether or not these devices come about, or how soon they do we just don't know yet, but I'm betting that it will be sooner rather than later.

Related Posts