Direct Artillery Fire with Tactical Nav iPhone App
Created by Army Captain Jonathan Springer with his own savings to help soldiers fight the Taliban.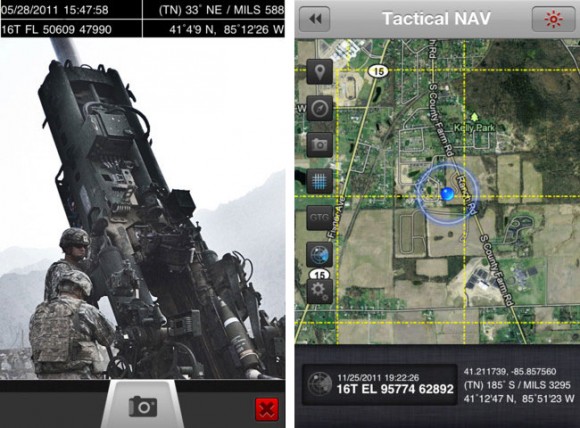 Tactical Nav: iPhone's military application is more than "using a slingshot to launch some irritated birds at shelters harboring egg-stealing pigs".
Bloomberg describes that Army Captain Springer "wanted to give something back to soldiers that might help save their lives":
The result is Tactical Nav, an iPhone application the U.S. Army captain built with $30,000 of his savings and a maxed-out credit card a year ago. The $5.99 app uses GPS technology and the iPhone's camera to chart coordinates and guide artillery fire. It has been downloaded about 8,000 times by U.S., Canadian and Australian soldiers, as well as hunters and hikers, Springer said. From e-mails he has received from soldiers who have gone on patrol with it, the app has been used in both combat and training, Springer said.
Tactical Nav is $5.99 download on [App Store]. Features include:
Military quality GPS tactical navigation system
WGS 84 standard
Tested in combat to ensure utmost accuracy and reliability
Military gird or LAT/LONG coordinates
One button night mode
Download maps for use without data connection
The Tactical Nav site notes the use of the app is not sufficient to get the iPhone on the export restricted United States Munitions List (USML).
The iPhone itself isn't a defense article. The only other time I see software called out specifically in the USML is category XIII for military cryptography, also not relevant to this app.
Springer is also a Mac guy: "I've been an iPhone user for quite a while and I'm obviously a Mac guy," Springer told CBS News.
iPhone App for Snipers / Marksman
Related apps include iPhone app for snipers / marksman:
Knight's Armament Co., based in Titusville, Florida, has been supplying rifles and night-vision scopes to the U.S. Army and Marines for three decades. Now it's also promoting BulletFlight, a $30 ballistics app that incorporates the inclinometer and weather apps built into an iPhone to help soldiers calibrate their weapons more quickly.
BulletFlight ballistic computer is $29.99 on [App Store].
Civilian Technology Revolutionizing Defense Industry
Instead of civilian adopting government developed tech (norm in Cold War era), civilian technology such as the iPhone and iPad are now being adopted for government use. Examples include Marine Corps + Navy Pilots Use iPad in Combat Missions and UK soldiers at Royal School of Artillery in Wiltshire use iPad to practice fire missions.
Teri Takai, Chief Information Officer (CIO) of the United States Department of Defense (DoD) mentioned that "American soldiers, sailors and marines may all soon be able to download Tactical Nav and other military programs through a dedicated DoD app store." Expected once they figure out the security part of the puzzle.
Our guess, probably will be implemented in many years so don't hold your breath. ObamaPacman tip: iOS Enterprise developer program allows app distribution outside of App Store.
Thanks to Marty for the tip!
PS. Can you download TacticalNAV for Android? There's no such thing for the problematic platform.

Related Posts