Cosmonaut iPad Stylus, by Glif iPhone Tripod Mount Creator
Review by Marco, technology writer and creator of Instapaper, which has its own iOS app [$4.99 Universal App].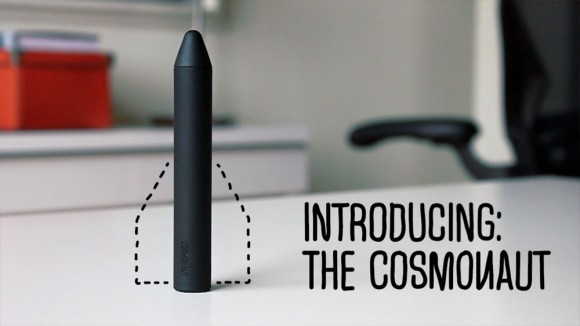 Video: Cosmonaut iPad Stylus
Marco Arment on Cosmonaut iPad capacitive stylus:
I've tried a lot of iPhone and iPad styli, and I haven't liked any of them before. But this one's very different. […]

It doesn't feel like a brick of solid plastic writing on glass, and it doesn't feel like a flimsy sponge on a stick. It feels like a marker, as designed.
His tip? Use the Cosmonaut stylus like a dry-erase marker:
The Cosmonaut's size and shape encourage you to hold it the same way you'd hold a dry-erase marker when writing on a whiteboard: further up the barrel, with a loose grip, and with your hand floating far above the screen.
Cosmonaut Stylus is $25. Created by Studio Neat, maker of Glif iPhone 4 / 4S Tripod Mount & Stand [$19.99 on Amazon
or $30 for Glif+]

Related Posts