Corvette Racing Turkeys' Car Crash: Filmed with iPhone 4S
Can a video be both a fail and a win? Thanksgiving Corvettes drag racing gone wrong caught on 1080P HD video.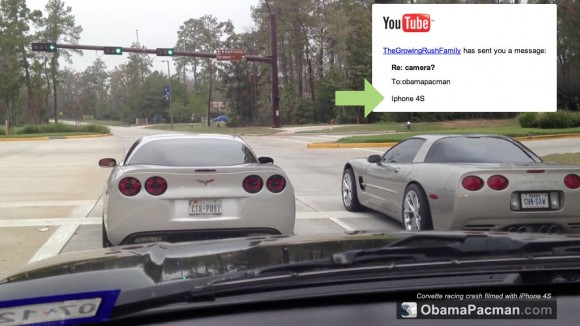 iPhone 4S Video: Corvette Drag Racing Fail
On Thanksgiving day, Gerod Rush recorded this video of two revving Corvettes at a red light. He notes:
"Let's see how stupid these guys are."
And of course, the Corvettes crashed and he has it on 1080P HD video. Neither driver was seriously hurt. Not as rare as great white shark on video, but equally (or perhaps more) entertaining.
What video camera did Gerod Rush used to film the turkeys? Through his YouTube account TheGrowingRushFamily, Rush told ObamaPacman that it's recorded with iPhone 4S.
He has been interviewed by Anderson Cooper CNN Ridiculist, ABC 13 Houston, Ken 5, and Fox 26 Houston. Police originally thought it was an accident, but his video evidence is helping with the investigation.
What about driving while shooting the video? Rush told Ken 5 San Antonio:
"I think me driving going 30 miles an hour with a camera in one hand and the other hand on the wheel, versus them careening down the road out of speed — the two don't really compare."
Location of the Thanksgiving Corvette crash: Woodlands Pkwy near FM 2978, Magnolia Texas
PS. This 8 Ferrari crash needs an iPhone 4S video. The aftermaths:

Related Posts