Cool Apps: Drone Station For Mac OS X
It's amazing what you can do with computers these days. That would include using your Mac as a remote control for the Parrot AR.Drone quadricopter, and all over a Wi-Fi connection, as seen in the video above.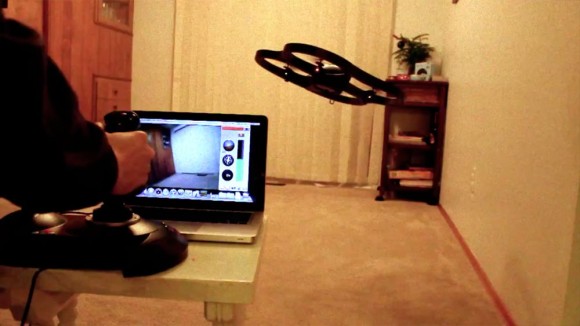 The app involved is called Drone Station [Mac App Store with launch price of $9.99], and it includes the following Summary of features:
* Compatible with AR.Drone firmware 1.5.1
* Real time video recording from front and bottom AR.Drone cameras
* Image capture from front and bottom AR.Drone cameras
* Extended range by use of external USB Wi-Fi dongles and antennas
* Animated configuration screen, allows you to see the effects of changes
* Simple drone simulator control check lets you practice your controls before flight
* On screen, animated attitude, altitude, directional, and battery gauges
* Quick Reference Guide

List of Compatible Controllers:
* Thrustmaster T-Flight Hotas X [$42.99]
* Xbox 360 Wired USB Controllers [$29.99]
* PS3 Wired USB Controllers
* Logitech Extreme 3D Pro joystick [$29.08]
* Logitech Dual Action Gamepad [$23.88]
* Keyboard and Mouse
* Wii Motion Controllers with Nunchuk [$16.99 White or Black] and/or Balance Board [$99]
Well, what can I say, but this is way, way C..O..O..L……. BABY!
Yeah, I know they say that you shouldn't use this thing around animals or people, but hell that's half the fun ……. driving my neighbors stupid dog, who constantly drives me crazy with his confounded barking and whining! Oh, and let's not forgot all those stupid neighbor cats that love to come around and mess your yard up. Yeah baby, skimming them with one of those ever-so-neat Parrot AR.Drone quadricopter's has got to be one way of inflicting revenge on the silly little buggers!
Seriously, however, this piece of software looks to be what a lot of people who have the time, the money and the patience to fly one of these cool gizmos is looking for, and one of the cooler features is that, as its official page states:
"With Drone Station you can record video and take pictures with a simple click of a joystick or keyboard button. The pictures and videos are automatically saved to your chosen folder on the hard drive."
Now that is really cool, but if your a hunter, which I'm not, it would also be a great way to spot out your prey, be it a moose, deer or a nice big, fat bear! I have a hunter friend who would just love that. Besides, it's also a pretty sweet way to spy on your neighbors new barbecue furniture, flower beds, etc.
Of course, you'll need not only one of those sweet little Parrot AR.Drone quadricopter's, but you'll also need the following:
* … a Macintosh running Mac OS X 10.6.6 or later
* Third party driver is required for Xbox 360 controller.
* 6.6 MB
Well, there you go, Drone Station is just another reason on why your glad that you've got yourself a cool, powerful and sexy Mac.
Via: Engadget
OP note: Drone Control is also available as Universal app [$4.99 on App Store] for iPhone, iPad, iPod touch. Also, the Thrustmaster T-Flight Hotas X listed above is very cool and highly rated joystick and throttle controller for flight simulations.

Related Posts