Colbert: Kindle Fire Great… [video]
Is iPad doomed? Mac user Stephen Colbert shops for Kindle Fire.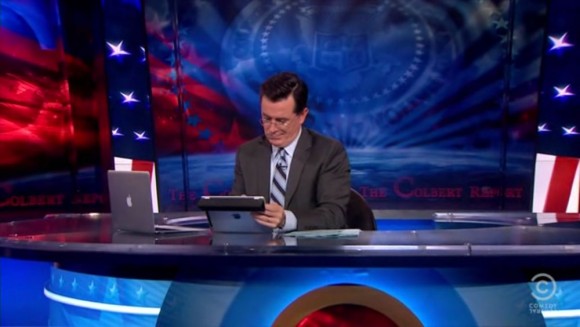 Video: Colbert iPad vs. Kindle Fire
Colbert brings out his MacBook Air and iPad 2 to do some post Black Friday holiday shopping:
"There's a nice deal on a Kindle Fire. That would make a great coaster for my iPad." – Stephen Colbert
Colbert Nation, November 28, 2011 / Black Friday Siddhartha Mukherjee episode (clip + full episode).
iOS: watch above Flash video with SkyFire Flash Browser:
1. download [iPhone + iPod touch | iPad]
2. use "video" button on lower-left of the app

Related Posts