Canaccord: Expected iPhone Sale Records To Come At Android's Expense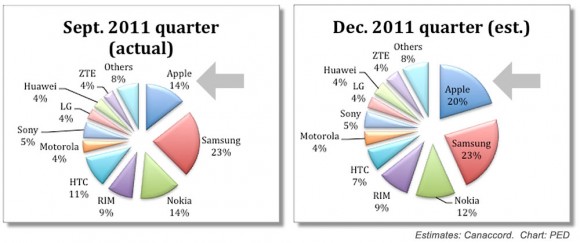 Check out those charts above, or on cnn, and see what's happening with the iPhone….. it's beginning to steal back some of the market share that Google's Android has virtually stolen from it!
Notice that the actual sales chart for September shows that the iPhone's share at 14%, which is tied with Nokia's, but compared to Samsung's 23% it still has a way to go to catch up. However, as you can see, the projected sales numbers for December 2011 has the iPhone going and growing from 14 to 20%, all within a short striking distance of Samsung, which remains unchanged 23%. The iPhone's resurgence comes mostly at the expense of Nokia which drops to 12%, and HTC's which drops from 11 % to only 7%.
The important thing here isn't just that the iPhone is growing, but that it's doing so at the expense of some of the biggest Android players around, as the producer of the above charts, Canaccord Genuity, noted.
It's not all good news for Apple however. That's because Canaccord Genuity's T. Michael Walkley points out that the Amazon Kindle Fire could reduce the iPad's over all domination from around 74% to some 53% of the market.
Getting back to the good news, however, the iPhone is expected to record yet another record quarter, growing a whopping 42%, which translates into approximately some 30,000,000 new phones, and it's not only Conacord either, as a growing list of analysts, such as UBS analyst Maynard Um, Sterne Agee analyst Shaw Wu, Ticonderoga Securities' Brian White and J.P. Morgan are echoing the same…. that the iPhone is about to see rapid sales increases.
As noted by AppleInsider, most analysts believe, however, that the iPad numbers will be down slightly due to hot sales from both the Amazon Kindle Fire, a cheap, low-end tablet marketed at $199, and Apple's own MacBook Air which is selling like the old proverbial hot cake these days.
Of course, we will just have to wait and see just how close these estimates come when Apple actually reveals its next quarterly results sometime in January, but by all estimates it could be Apple's biggest quarter ever.
Not only is Apple expected to sting Android by stealing back some of its stolen market share, but according to Jonny Evans of ComputerWorld, the next iPhone, the iPhone 5 is expected to include a new quad-core A6 chip that will run circles around anything that will be available on the Android side, or as Evans puts it:
"The iPhone 5 promises power and performance no comparable Android device can ever hope to match, even as the iPad continues to incinerate all comers in the tablet space."
In other words: 2012 looks like it will be Apple's best year ever!

Related Posts