Apple Founding Document Sold for $1.6 Million At Auction
Lot including partnership agreement signed by Steve Jobs, Steve Wozniak, and Ron Wayne was originally estimated to be worth $100,000 to $150,000.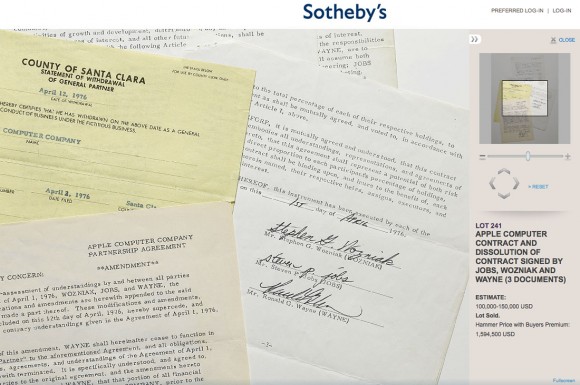 The Sotheby's auction lot includes the original three page Apple company formation partnership agreement signed on April 1, 1976 and the April 12 withdrawal by Ronald Wayne. It is sold for, for $1,594,500. That is the hammer price with twelve percent buyer's premium paid to the auction house. The buyer was Eduardo Cisneros, chief executive officer of Cisneros Corp., Bloomberg reports.
Macrumors notes:
The seller was identified last week as Wade Saadi, who purchased the documents from Ron Wayne in 1994 for "several thousand dollars".
Wow, Ron missed his chance to be rich twice. His original 10% share would have been worth $36 Billion dollars today.
Hopefully he has one of the original Apple I computer for sale. One of which recently sold for $211,535.

Related Posts