Android vs iOS: Which is the Superior Platform For Apps?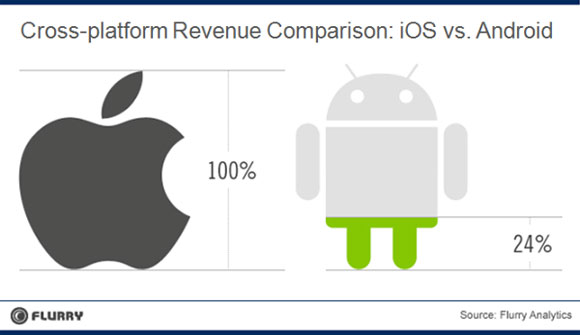 Yesterday, on my own little blog, I wrote about the explosion of smart phone apps, and when it comes to apps, well Apple is clearly in the lead with over 500,000 of them, as compared with second place Android which has approximately 350,000, and third place Windows Phone 7, which is now sporting a respectable 45,000 apps in its first year on the market.
App Store Downloads for Top 10, 25, 50 Spots
What I didn't realize, at the time, however, was just how awesome Apple's iPhone numbers really were. For instance, this report claims that if you want to hit the top ten app downloads in Apple's App Store, you'll need to generate a massive daily download rate of a whopping 80,000, at least for the United States! Yes, that's 80,000 per day, or some 3,333.33 per hour, or 55.6 per minute!
In other countries the numbers are different, of course. When it comes to the top ten countries, the numbers to hit the top ten list are as follows:
United States – Top 10: 80,000; Top 25: 45,000; Top 50: 25,000
China — Top 10: 30,000; Top 25: 15,000; Top 50: 10,000
Canada – Top 10: 9,000; Top 25: 4,000; Top 50: 2,000
Japan – Top 10: 20,000; Top 25: 9,000; Top 50: 6,000
South Korea – Top 10: 20,000; Top 25: 9,000; Top 50: 5,000
United Kingdom – Top 10: 18,000; Top 25: 8,000; Top 50: 5,000
Germany – Top 10: 12,000; Top 25: 5,000; Top 50: 3,000
France – Top 10: 10,000; Top 25: 5,000; Top 50: 3,000
Italy – Top 10: 8,000; Top 25: 4,000; Top 50: 2,000
Australia – Top 10: 8,000; Top 25: 4,000; Top 50: 2,000
Also yesterday, countering Eric Schmidt's bragging that app developers would soon prioritize their apps for Android before they do iOS, other reports, such as this one by Flurry, noted that when it comes to actually making money, the most money made on apps where generated on the iPhone, and by a good country mile. As noted by the last report:
"Despite installed base numbers and daily activations, the almighty dollar still drives business decision making among application developers," the report concluded. "And with the critical holiday season upon us, developers are betting on iOS for Christmas 2011."
How true, as I've always said: "I rather make a dollar profit on the sale of 1,000,000 widgets, then a five cent profit on the sale of 10,000,000 widgets. Android might be selling more devices right now, but clearly when it comes to profits iOS is by far the superior platform.
As noted by AppleInsider, also commenting on the last report above, stated:
"Piper Jaffray analyst Gene Munster said last month that iOS appears to have taken in 90 percent of all dollars spent on mobile devices, compared to Google's 7 percent of gross revenue. Over the next three-four years, Munster sees Apple maintaining a dominant 70%+ share of mobile app dollars. He went on to estimate that 13.5 percent of App Store downloads are paid, compared to 1.3 percent of Android Market transactions."
The iPhone and iPad are so profitable, in fact, the even Apple's traditional arch enemy Microsoft is now eager to lend some of its best apps to iOS's app lead, including its super cute game, Kinectimals and SkyDrive storage!
In other words: Eric Schmidt can boast, brag and lie all he wants, the truth is that iOS is by far-and-away the superior platform when it comes to apps, and the superior platform for making developers money, and consumers are backing that up that fact by voting with their hard earned dollars.
Editor's Note: don't forget the high Android support cost, often costing many multiple as that of iOS due to Android fragmentation, finally admitted by Google as a problem.

Related Posts