Android Copying iPhone Yet Again, But Gets Only Short Product Launch Lines
After years of copying Apple, Galaxy Nexus launch on Verizon finally resulted in short lines in some areas.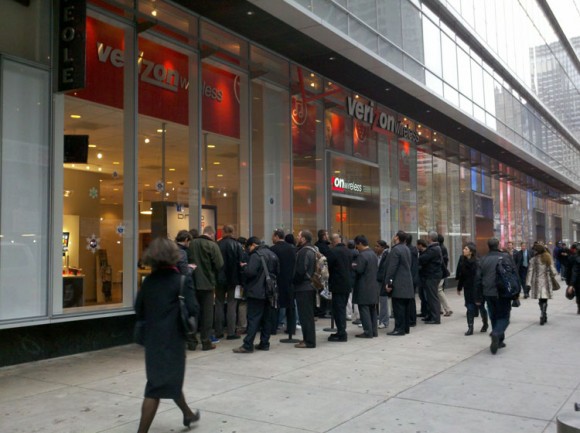 Macnn on the short Samsung Android phone lines:
Samsung has tried to make fun of iPhone line-waiters in its TV spots and to spin a lack of lines for the Galaxy S II as a positive. The Galaxy Nexus lines suggest that many of Samsung's own potential fans would line up like their iPhone counterparts, but only if a similarly interesting Android phone was available.
How ironic. Or perhaps they are filming the new Samsung commercial?
Photo of the Time Square Galaxy Nexus launch day line by Dave Mosher. ObamaPacman notes: You figure there would be a few more people in New York City interested in it? Half of them seem to be just looking in to see why people are lining up at Verizon store. Huge difference between that and the iPhone 4S launch line.
Android Copier Fail
But the lines for the latest Android phone are still short. Some Android users suffered from being forever alone:
More than one buyer reported being either the only one waiting or having very few other people besides themselves lined up.
Let's see how quickly Google announce mission accomplished this time. Maybe giving some concert tickets away might help.

Related Posts