Analysis: Android Hits 700,000 Daily Activations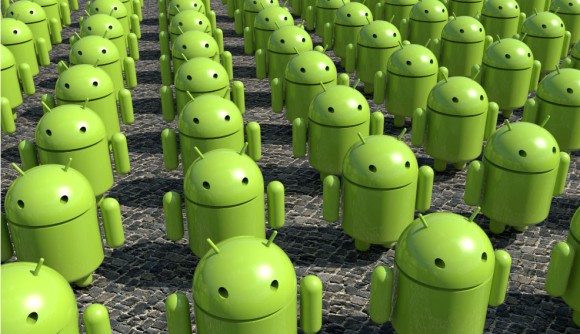 Reports are now saying that Android's 550,000 daily activations have now grown to 700,000! That's an increase of 150,000 in barely a month, something that I find hard to believe, but if true it's amazing to say the least.
Not counting any further increase in the future, then it would seem logical that every person on the planet will soon be sporting an Android device at that rate, which of course is utterly impossible, and is one on the reasons why I'm having a little trouble believing the latest figures.
After all, if Google sees no problem in stealing others peoples IP, as some claim, then it wouldn't have any trouble what-so-ever in fudging those daily activation numbers. Now, they may be true, but on the other hand I simply don't trust anything that Google says. This is a company that after all was recently fined a whopping $500 million for knowingly breaking the law for over five years by allowing illegal Canadian drug adverts. Google, of course, said it was nothing but a simple mistake. Yeah, sure, it was, and like we all know that Santa Clause is also a real living, breathing guy living at the North Pole and who routinely flies reindeer!
If Android is indeed activating some 700,000 new devices per day, they, according to Steve Jobs, are all stolen sale from a stolen product. This comes in spite of foolish claims from Google that Steve Jobs was simply distorting history.
Despite Android's raging daily activations, when it comes to generating sales and profits from app sales, however, iOS still clearly dominates and even totally dwarfs Google's Android and by a factor of six.
It will be interesting to see just how high and for just how long Android will continue to grow on the back of what some claim is Apple's and others companies stolen IP, and just what will happen to Android and Google itself from all of the current patent mess that it has gotten itself into. Obviously, Google took a calculated risk on the assumption that it would eventually win, but I'm not too so sure I would bet on that happening.
For one thing, the European Union has now compiled over 400 pages of complaints that could make Google subject to some very serious anti-trust violations, and ones serious enough that it could eventually inflict massive fines and, who knows, even prevent Google from taking over Motorola Mobility, a company that Google thinks will buy it some legal liability protection. Currently, the European Union has suspended its decision on the merger, claiming that it needs more documents before rendering its final decision.
Android army illustration via:Phandroid
OP Editor: other Google shenanigans:

Related Posts