Will The iPad 2's Price Soon Be Discounted? Short Answer: NO!
There's a lot of rumors going around lately that, thanks in part to Amazon's Kindle Fire, Apple will be soon forced to drop the price on its game-changing iPad, but is that really true?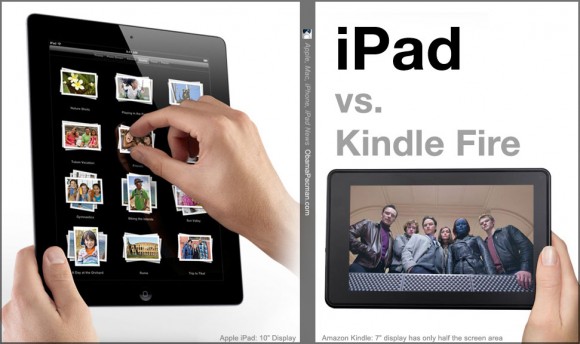 Well, even though it seems to be true that the Kindle Fire pre-sales are selling like hotcakes, but as Andy Ihnatko recently noted in his own review:  "Kindle Fire is no iPad killer – but it is a killer device."
Still people, like Goldman Sachs analyst Bill Shope, thinks that the Kindle Fire's super low $199 price makes the iPad overpriced, and that previous price drops from BlackBerry's Playbook and HP's recently discontinued TouchPad will present in the "near-term demand challenges" force Apple to discount the iPad's current prices.
One of the biggest reasons why some people believe an iPad 2 price drop is unavoidable range all the way from the possibility of the upcoming iPad 3, to a more sobering and shocking drop in demand for the iPad 2 itself. Others analysts, however, are saying "Not so fast!".
Well, as much as we consumers, I'm sure, would love to see any price drop, be it for the cost of fuel, food, clothing, housing, or any thing else, the iPad 2 included, Don Reisinger gives 10 very convincing reasons on why it won't happen, as he stated in his recent post for eWeek.
These include:
Sales are already strong
The iPad 2 will still be more expensive
All others will follow suit
Who ( really ) knows if the Kindle Fire will be a success?
Android has yet to prove itself (In which I will add: I don't think it's doing a very good job!)
Apple's branding is too mighty
The other devices aren't changing
iPad 3 Is Lurking
The enterprise is willing to pay the price
It's not about the price, anyway
I agree with all of all of the above, but I agree especially with his last point, "It's not about the price, anyway," and that's because it's really not about the price….. it's all about the experience that you get for your money, or, in other words: "it's the bang you get for your buck!"
Sure, with other tablets, including Amazon's Kindle Fire, you'll get an experience that might even be described as a good one, but sadly that experience isn't going to come anywhere near the overall greater experience that you would have gotten from a full-priced, full-fledge and much more powerful and feature packed tablet, such as the iPad 2.
When it comes to low-priced tablets, like the Kindle Fire, you'll get more than a lower price, you'll also be getting a much lower quality of performance, features, and a much lower sense of satisfaction that you would have otherwise gotten with a full-priced device like the iPad 2, because I've always said that a tablet without apps is like a car without gas, it won't get you anywhere.
The Kindle Fire might have a lot more gas than many of the other Android based tablets, thanks to Amazon's huge amount of content, but I still don't think it's going to be enough to take on Apple's iTunes, iCloud and especially its App Store.
So, in conclusion, I'm not really buying into this nonsense of a lower priced iPad 2 coming anytime soon. That isn't to say that it can"t or won't happen at some point down-the-line, but if it does I will happily eat my words. So, in a world of lower expectations, I'm sure the Kindle Fire will sell well, but if you want the ultimate and most satisfactory experience around, then you and I will simply have to pony up for it. After all, quality doesn't come cheap, and that's why I don't expect an iPad 2 price drop anytime soon.
- Guess post by Don Williams of My 2 Cents 4 the Day.
Illustration by ObamaPacman.
[OP Editor note: Apple sells $299 original iPad in the Apple refurbished store (looks new, has same warranty as new) but the iPad get sold out quickly whenever they become available.]

Related Posts