Why Is This Photo Embarrassing for HP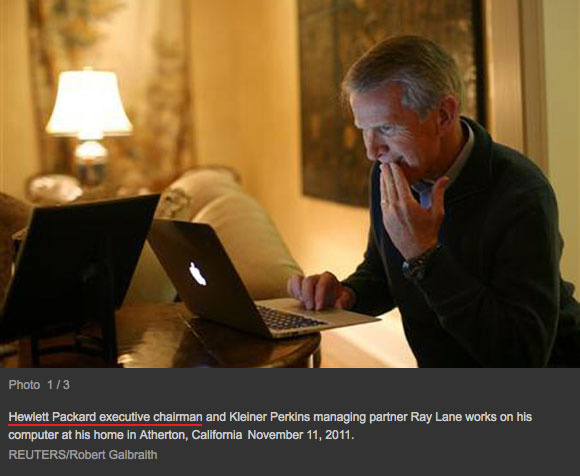 Ok, is this Reuters photo showing a man using a MacBook Air laptop, much like millions of other men around the world, embarrassing or what?
Normally, it wouldn't be. Normally it would simply be a photo of a man with a sense of taste in electronic gear, but in this case it might just well be embarrassing because of the following reason:
The man in question is none other than  Mr. Ray Lane, who, by the way,. also just happens to be the chairman of beleaguered tech giant Hewlett-Packard!
As AppleInsider noted:
"After Apotheker's strategy was roundly recognized to be disastrous, Lane and the HP board scrambled to do some damage control, removing Apotheker as chief executive and then appointing board member Meg Whitman as his replacement, despite, as Reuters observed, "her lack of experience in enterprise computing.".
Well, it now looks like HP might just have to do a little more damage control now, doesn't it?
Mr. Lane became HP's chairman soon after his friend, the former CEO of HP, Leo Apotheker replaced Mr. Hurd who was fired from his post. True, as embarrassing as it must appear to actually see the chairman of HP using one of his competitors laptops, there does appear to be what looks like a Windows PC of some sorts in the back ground, which I'm presuming is an HP, at least for Ray's sake I'm hoping it is!
HP has been floundering lately and it seems to be almost desperate nowadays, and I'm sure that some will point to the above photo to help prove that point. I, on the other hand, tend to look at the same photo and think that, maybe, just maybe at least some of HP's executives are a lot smarter than we give them credit for, and hopefully, this will bode well for the company's future?
Image: Reuters (link above) modified by ObamaPacman.

Related Posts