Waterproof iPhone with Spray-on Never Wet Coating [video]
A sprayed-on silicon coating is said to kept iPhone working for 30 minutes under water.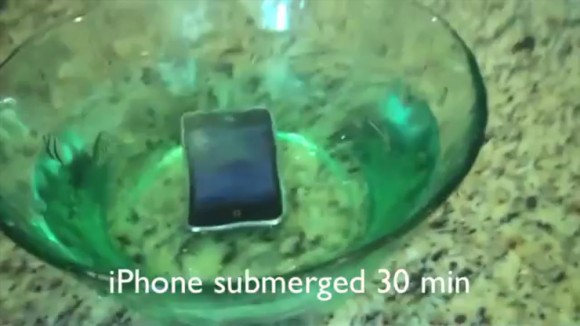 Video: NeverWet iPhone Waterproof Coating
The video claims "iPhone sprayed with NeverWet. iPhone was not disassembled." Seriously? What about the battery and internal components?
Wired writer Charlie Sorrel seems to believe it's real:
NeverWet is still undergoing research, but could be available commercially next year.
iPhone Water Proof NeverWet Spray: Scam?
ObamaPacman: NeverWet by Ross nanotechnology, said to be a silicon-based spray-on coating that repels water and heavy oils, stinks of a fake product / hoax. Perhaps Mythbusters can look into this? Here are some of the problems we found:
FAKE SOUND EFFECT: At 1:43 of the video, iPhone ringer sound was not accompanied by receive call graphics. It would have sound different under water anyway. Instead of lying to viewers by using the sound effect, why not take the phone out and demonstrated with a real phone call?
FEW OFFICIAL VIDEOS: This video is "dated" December 2010, almost one year ago and it's nowhere to be found on the company's own site. The few low resolution video on the NeverWet site all showed examples of only simple materials such as boards. (I could have done that with RainX).
FEW STAFF LISTED: NeverWet is owned by Ross Technology Corporation, and lists one scientist Vinod K. Sikka on its site.
NO PRODUCT ON MARKET: Andy Jones of Ross Nanotechnology demonstrated the application of NeverWet with other products, recently with sneaker teaser. Last year, it had a product called NeverWet Plunger (2010 April Press release):
The 2010 press release said the plunger is available from the NeverWet web site, but the site contains no such product for sale.
FEW CONFIRMED SIGHTINGS: NeverWet company news only listed an event that took place near the company post office address: P.O. Box 646, Leola, PA 17540:
We recently received the Grand Prix Award, including a $7,500 cash prize, for our NeverWet Coatings at INPEX 2011 (The Invention & New Product Exposition), America's Largest Invention Trade Show. The show was held June 15-17 at the Monroeville Convention Center, just outside of Pittsburgh, PA. The 26th annual show featured more than 1,000 inventions and new product ideas on display. Additionally, awards were presented in 45 categories, of which NeverWet was awarded the Gold medal in the Science category for a domestic entry.
QUESTIONABLE TRADE SHOW: Perhaps a company with such "promising" technology would think of demoing the product outside of their own town? By the way, here are the top 5 winner from INPEX 2011:
Never Wet Coatings
The Cool Green Machine
ALCHEMIST
The GET (Green Eco-Trike)
Dual Detection ZGRB Apparatus
NeverWet beat out the tricycle! Sounds like a legit inventor's fair. And what is the vaguely named ALCHEMIST?
2008 Video: Super Hydrophobic Substances
At least the material could be real, as this 2008 video by Nottingham Science (NOT affiliated with NeverWet) describes of a similar material:
We're not scientists, but it seems a long way from coating fabric to waterproofing electronics.
NeverWet: Don't Touch It!
NeverWet PR posted by How Stuff Works in 2010:
Q: What can destroy a NeverWet coating?
A: Oils and soaps. These coatings are NeverWet, not never oily. Oil will wet them quickly, and water will stick to the oily portions of the products. If you rub them too much with your hands, the oil from your hands will cover the nanosurface and destroy its functionality. Motor oil, vegetable oil, or alcohol will also stick to the surface. If you do get oil onto the surface, wipe it very lightly with sudsy paper towel and rinse it thoroughly. When it dries, it should work again. If you get soapy water onto the plunger, it too will wet the plunger. Simply rinse all of the soap off and let it dry.
Sure. A phone that you don't touch. The coating seems perfect. Not. Some company might need to keep working on it. Translation: don't expect a miracle iPhone waterproof spray anytime soon.

Related Posts