Watch Steve Jobs: iChanged the World / One Last Thing [video]
Watch the PBS + UK Channel 4 Steve Jobs documentary where he gives an exclusive interview on his own philosophy of life.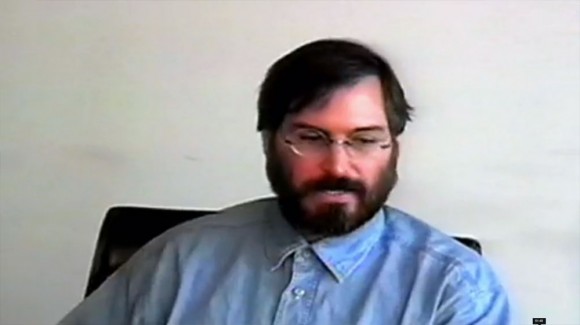 Video: Steve Jobs, One Last Thing
Aired on November 2, and featuring Will.i.am of the Black Eyed Peas, Steve Wozniak, to Richard Branson and more:
Through interviews with colleagues and others who knew Steve Jobs, whose innovations transformed the lives of millions, "One Last Thing" provides an inside look at the man and the major influences that helped shape his life and career.
The embed seems to be 20 minutes. Full video is 55 minutes, on PBS in US or Channel 4 in UK.
Buy the DVD from PBS for $24.99, ships by November 25, 2011. DVD description:
Few men have changed our everyday world of work, leisure, and human communication in the way that Apple founder, Steve Jobs, has done. This documentary looks not only at how his talent, his style and his imagination have shaped all of our lives, but also at the influences that shaped and moulded the man himself. Since his untimely death, tributes from around the world have secured Steve's place in the pantheon of great Americans.

Now, we talk to the people who changed the man, who changed our world. Through interviews with the people who worked closely with him or chronicled his life, we gain unique insight into what made him tick. In a never before broadcast, exclusive interview, Steve Jobs expounds his own philosophy of life, and offers advice to us all on changing our own lives to achieve our ambitions, our desires, and our dreams. "Life can be much broader once you discover one simple fact; that everything around you that you call life was made up by people no smarter than you…the minute you understand that, you can poke life; you can change it, you can mould it, embrace it, make you mark upon it. Once you learn that…. you'll never be the same again."

Related Posts