Steve Jobs, "The Lost Interview" In Movie Theaters on November 16, 17
Lost footage from 1995 Cringely interview of Steve Jobs for Triumph of the Nerds, a great TV series about the PC industry.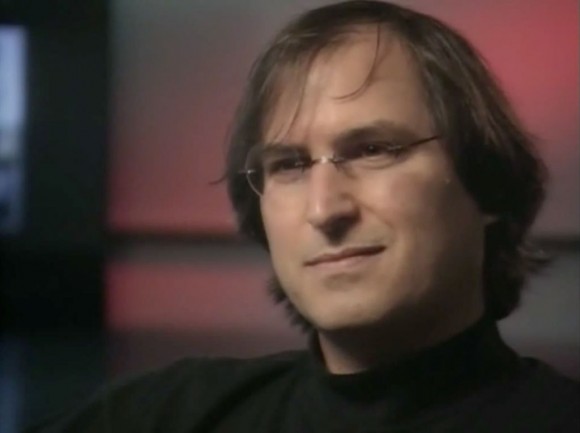 The Steve Jobs' interview was filmed in NeXT headquarters in Redwood City, one year before the company would be sold to Apple. But it turned out that only 10 minutes of the 64 minute interview were used in Triumph of the Nerds [$24.99 DVD on Amazon
]. The masters were lost during shipping, before they can use more of the footage. But just few weeks ago, TOTN director Paul Sen found a VHS copy stored in his UK garage.
Robert X. Cringely, pen name of technology journalist Mark Stephens:
This is undoubtedly the only surviving copy of the best TV interview Steve Jobs ever gave yet nobody ever saw.
The official Steve Jobs Lost Interview site described, the entire interview will the aired from building the Blue Box with Steve Woz, Xerox / GUI, NeXT, to Steve's thoughts about future of technology:
[Steve] offers his vision of a digital future – a world of wonderful products created by artists and poets.
Here's a snippet of the footage:
Video: Steve Jobs Talked About Xerox GUI
Steve Jobs talked about seeing the graphical user interface at Xerox when he was invited there:
"I thought it was the best thing I ever seen in my life. Now, remember it was very flawed. What we saw was incomplete, they've done a bunch of things wrong."
Screening Times in Select Theaters
November 16 and 17 2011 screening in select Landmark Theatres, but there are some exceptions noted below. Some theaters offer advanced ticket purchases starting today:
Atlanta: Midtown Art Cinema
Austin: Violet Crown Cinema (11/18 | 11/19 | 11/20) www.violetcrowncinema.com
Baltimore: Harbor East
Berkeley: Shattuck Cinemas
Boston: Kendall Square Cinema
Chicago: Century Centre Cinema
Cleveland HTS., OH: Cedar Lee Theatre (11/16) www.clevelandcinemas.com
Dallas: The Magnolia
Denver: Esquire Theatre
Houston: River Oaks
Indianapolis: Keystone Art Cinema
Los Angeles: Regent Theatre
Milwaukee: Oriental Theatre
Minneapolis: Lagoon Cinema
New York City: Sunshine Cinema
Palm Desert, CA: Cinémas Palme d'Or (???) www.thepalme.com
Palo Alto: Aquarius Theatre (11/16 | 11/17 | 11/18 | 11/19 | 11/20 | 11/21 | 11/22)
Philadelphia: Ritz at the Bourse
San Diego: Hillcrest Cinemas
San Francisco: Opera Plaza Cinema
Seattle: Metro Cinemas
Washington D.C.: E Street Cinema
ObamaPacman: Washington DC showings are November 16 at 7:15pm and 9:00pm and Thursday, November 17 at 7:15pm and 9:00pm. Ticket price $11 General, $8 Child, $8 Senior.

Related Posts