Steve Jobs, the Countercapitalist Who Changed Industries
Steve Jobs as archetype for the American businessman. Plus his influence on technology.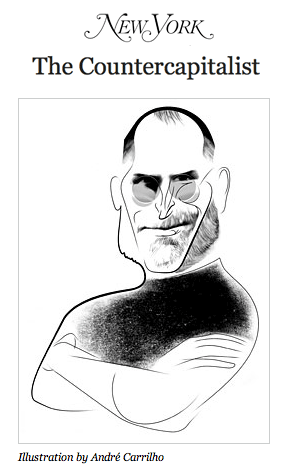 Long article by John Heilemann for New York Mag, Steve Jobs, the Countercapitalist discusses Steve Jobs' influence on Silicon Valley, from start of start up boom to the future of technology. Excerpt:
The effect those influences had on Jobs's record of concrete achievements will be debated forevermore. And no doubt those achievements are remarkable, arguably unrivaled in the modern history of innovation: the creation of five world-altering products (the Apple II, the Macintosh, the iPod, the iPhone, and the iPad) and the radical transformation of five gargantuan industries (computing, music, telephony, publishing, and animated film). But equally seminal, it seems to me, is Jobs's role in inventing something more ephemeral but more culturally significant: the image of the businessman as freewheeling rebel, as swashbuckling artist.
Steve Jobs also proved that artist can still win against clueless copycats.

Related Posts