Steve Ballmer: Windows 7 (Zune Phone) Suffered Disappointing Sales
Apple iPhone still winning against the Microsoft Zune phone.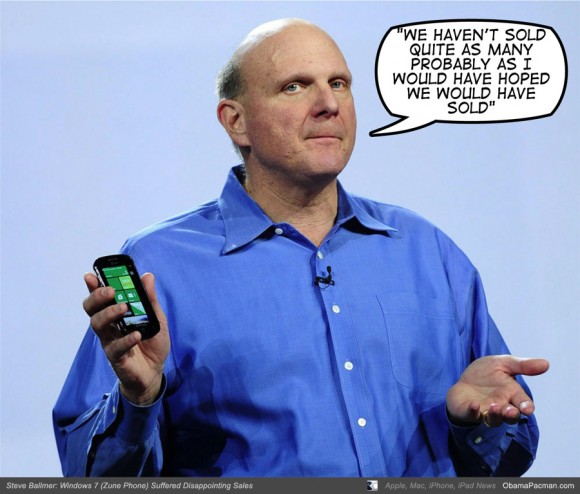 Steve Ballmer, Microsoft Chief Executive Officer, talked about Windows Phone 7 last month at its Financial Analyst Meeting 2011 [word document], which took place at Anaheim California (Seattle not good enough?):
It's really hard for me to even think back about the days before the Windows Phone. We haven't sold quite as many probably as I would have hoped we would have sold in the first year.
So Windows Phone 7 didn't sold very well in one whole year. And MS calls it "probably". It seems that Ballmer prefers not to think about decade of Apple win against Microsoft et al. and the failure of the abandoned Windows Mobile Phone (WiMP) against the Apple iPhone.
Windows. 7 seems to be repeating the path of late to the party Microsoft Zune vs. Apple iPod. Windows Tablet 8, using same "Metro" gui as Windows Phone 7, is expected to follow the same path.
Ballmer describes that Nokia is:
They're all in on Windows. They're not doing something with Android, or blah, blah, blah, blah, blah. Boom, our innovation interests are completely aligned.
Wait, doesn't Microsoft always talk about "partners" and developers? Where are they now? Abandoned Windows Phone perhaps. Also, MIcrosoft CEO's lack of iPhone mention shows inability to face up to reality. Or maybe Microsoft thinks it can only steal Android customers?

Related Posts