Running Ancient Games On Your Modern iOS Device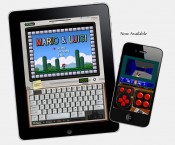 Yesterday, Engadget did a post on a port of DOSbox, an  app that will now allow  you to run old DOS games on BlackBerry's non-selling tablet, the PlayBook.
Of course, running ancient DOS games on a modern device is not really necessary these days, but boy-oh-boy, it's nonetheless is still fun to play around with, and especially if your one of us nostalgic types. Why, even though I despised PC's at the time, I still remember playing and enjoying various old PC games on my friends old PC's, smugly aware that I had a much better setup at home with my old Mac Plus and its glorious GUI and whopping 2.5 megabytes of RAM, and all running at a blisteringly fast 1Ghz!
However, if your one of those people, just like myself, that have nostalgia running through your veins and your an iOS user, well you can run a lot more than just old DOS games on your iOS device, you can also, with a little tinkering, can get Windows 95 to run, as you can see in the video below:
The above will not only work on the iPhone, iPod Touch and the iPad, but best of all, you can do it without jail-breaking your iDevice!
You'll will need a program called iDOS, which you can see running here, a program that unfortunately Apple officially removed from its App Store, but it still nonetheless available online* with a little Googling on your part. There is also DOSPAD-DOSbox for iOS by Fast Intelligence, but I'm not all that familiar with it, but nonetheless looks worthwhile checking out.
Considering just how sophisticated modern games have become, and how many super-cool and amazing iOS games there are out there, the natural question would be: why bother trying to run these primitive, unsophisticated, inferior ancient games on your immensely superior iOS device in the first place? Well, the answer to that is two fold and quite simple:
It's not only utterly nostalgic, but secondarily,  it's really just so damn much fun and satisfying!
Mind you, if you're one of the under 20 crowd, then you'll probably going to have any nostalgia for these games whatsoever, but still, even if your one of those younger folk, you'll still going to have an absolute blast playing some of these old timer games. For one thing, they are just so simple and so crude in comparison to some of the amazing gaming titles currently available for iOS, like Infinity Blade, that you'll probably die laughing at their crummy graphics, but graphics that at the time where so state-of-the-art that left us once youngsters standing there speechless, because we thought that they couldn't possibly get any better!
So, in conclusion, if your the nostalgic type, or just a history buff, and your yearning for something a little different to do with your whiz-bang, super cool iOS device, then check out the above retro-gaming sources above, and you just might score yourself a bit of fun in the process, so good-luck!
Opening image via: DOSpad – DOSBox for iOS / Fast Intelligence
[*OP Editor: Fast Intelligence is actually the developer of iDOS. iDos is discontinued, but the developer has a newer version available on Cydia as DOSpad. You need to add Cydia source http://www.litchie.com/cydia to a jailbreaked device]

Related Posts