Google Released Official Gmail App for iOS [download + REVIEW]
New native Gmail app released by Google today for Apple iOS. Download now if you live in the Gmail world.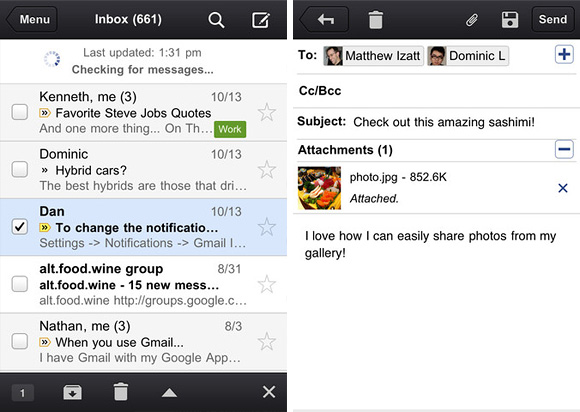 iPhone comes with great Mail app (you can even get it to do push mail with Gmail), but Google just made its own version.
You can now download native Gmail App [App Store] for iPhone, iPod touch, and iPad. Features:
Receive notification badges for new messages
Read your mail with threaded conversations
Organize your mail by archiving, labeling, starring, deleting, and reporting spam
Keep track of important messages with priority inbox
Auto-complete contact names as you type
Send and receive attachments
Search through all your mail
1, 2, 5, 6, 7 are already in Apple's Mail app. So only labeling (Google keeps spam out so don't really need report spam), and priority inbox (doesn't work that well in my experience) are the "main" features"
Review: Google Gmail App for iPhone, iPod touch, iPad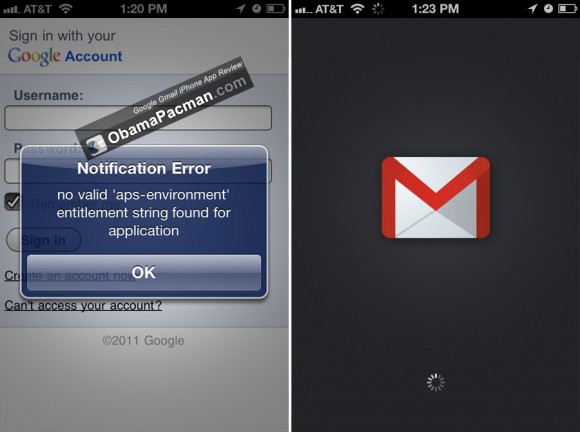 Review based on Google Gmail app version 1.0 tested on iPhone 4S with iOS 5.0.
Good:
Selecting multiple emails are easy
Pull down to refresh
Labels
Inbox can be accessed by swping left edge to the right, just like the iPad Mail app
Bad:
Error (non-critical) upon launch
Push email not working
Some emails are not cached for offline reading / responding, while others were downloaded
No multiple Gmail accounts
Scrolling behavior is poor
Trash button next to back button
Save button next to send
Does not show unread email count badge on home screen
No double-click smart zoom (but it's probably damned if you do and damned if you don't)
ObamaPacman conclusion: Google's native Gmail iOS app has some additional features not found in iOS Mail app, so if you need those features then this app is a no brainer.
However, the Gmail app follows the typical Google clunky and fugly design, and has has some problems such as not caching some emails. So those people who are already happy with Apple's Mail app probably don't want to switch at this time. But don't take our word for it, give it a try yourself if you like.

Related Posts