Official Gmail App Pulled by Google
Google is OPEN… to buggy, low quality software.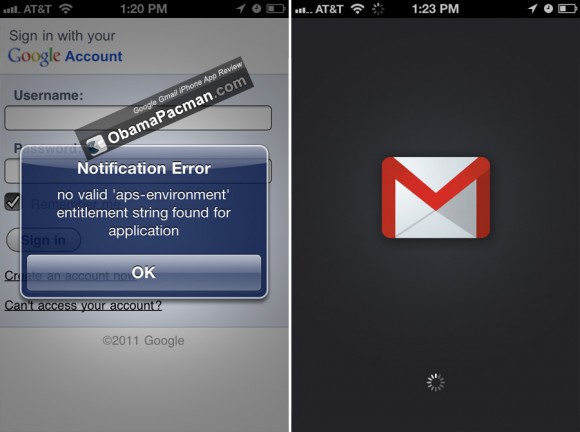 Google launched its official Gmail App for iOS earlier today. Here's the first feature advertised by the Official Gmail Blog:
Get alerted to new messages with push notifications and sounds.
So how does Google's new Gmail app work? Not only it's a poorly implemented web page wrapper, most users are seeing this error when they launch the app:
Notification Error
no valid 'aps-environment' entitlement string found for application
Hours later Google pulled the app and announced:
Update: 11/2/11: Earlier today we launched a new Gmail app for iOS. Unfortunately, it contained a bug which broke notifications and caused users to see an error message when first opening the app. We've removed the app while we correct the problem, and we're working to bring you a new version soon. Everyone who's already installed the app can continue to use it.
So apparently no one at Google bothered to test their own software. If you are going to copy Apple Mail and Facebook App, at least put it on par. Instead, Google released something horribly crappy. The same thing happend in mid October with Google Voice app too.
Time to sign up to the ad-free Apple iCloud email, which costs zero dollars.

Related Posts