NFL Tampa Bay Buccaneers + Baltimore Ravens Use iPad Playbook
American football teams use iPad playbook + iPad baseball promotion FAIL.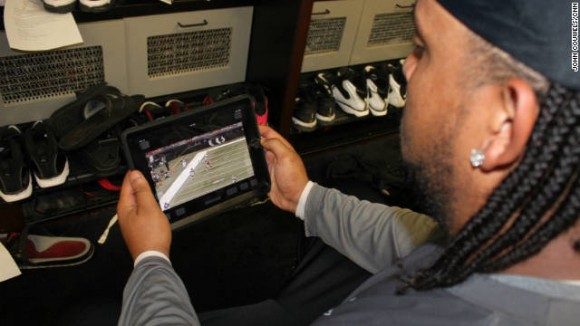 CNN (calling iPad "tablet"):
The [Tampa Bay] Bucs are one of two NFL teams, along with the Baltimore Ravens, that have purchased iPads for their players and coaches to use instead of the standard playbook.
…
Bucs players no longer need to haul paper-filled binders and stacks of DVDs from practice to home in order to continually prepare for game day.
Mark Dominik, Tampa Bay Bucs General manager:
"It was a smashing success for our players. They loved it," he said. The team printed paper playbooks as a backup this year, but Dominik says next year, "We're going green" — no paper playbooks.
Despite Motorola being major NFL sponsor, the teams are not using the Xoom with unpolished Android tablet software either. And no for BlackBerry Playbook.
iPad Baseball Player Promotion Fail
Bloomberg Sports tried to give iPad to professional baseball players to review its exclusive new "Pitch Review" app, but something went wrong:
"We didn't have to," said Bill Squadron with Bloomberg Sports. "Because every player had an iPad."
Oh no, looks like they can spend more money to develop their iOS app! Besides NFL and MLB teams using the Apple tablet, over 10 NBA teams already use iPad as Playbook.

Related Posts