Make Unlimited International Calls for $7/mo with Fring iOS App
Unlimited worldwide calling to 40 countries, using Fring on iPhone, iPad, and iPod touch.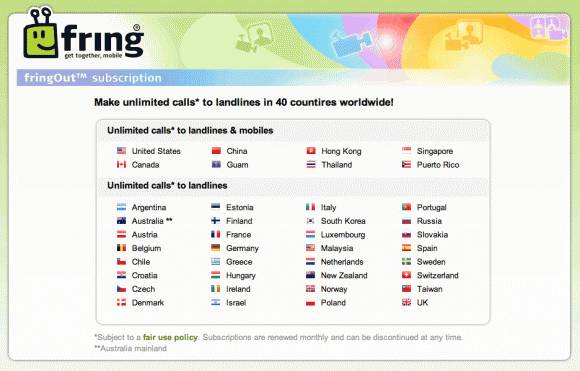 Fring announced $7 per month unlimited international calls. The price includes:
Landline and mobiles:
United States, Canada, China, Guam,Hong Kong, Puerto Ric, Singapore, Thailand
Unlimited calls to landlines:
Argentina, Australia mainland, Austria, Belgium, Chile, Croatia, Czech, Denmark, Estonia, Finland, France, Germany, Greece, Hungary, Ireland, Israel, Italy, Luxembourg, Malaysia, Netherlands, New Zealand, Norway, Poland, Portugal, Russia, Slovakia, South Korea, Spain, Sweden, Switzerland, Taiwan, UK
Download the Fring app [App Store, Universal] for free.
You can also make free Fring to Fring phone and up to 4 way video call on both 3G and WiFi.
If you spend more than $7 per month calling these locations, than you might want to give it a try.
More info on Fring Out VoIP service.

Related Posts