Learn iPad + iPhone App Development with Stanford 2011 Fall Course Video Podcast
Want to learn iOS development? Stanford offers a free iTunes University video podcast, updated for iOS 5.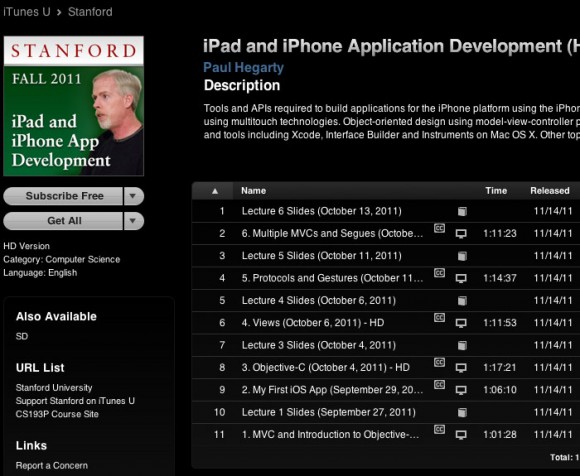 Did a 6th grade iPhone app developer beat you to the App Store? Want to get started with iOS programming?
Just released this week, the Stanford 2011 fall course on iOS 5 development. Download both course slides (in PDF) and video:
Videos are about 60 to 75 minutes each. There should be more coming. This course has two prerequisite courses:
Programming Methodology [iTunes], an introduction course using Java as coding language
Programming Abstractions [iTunes], continuation of Methodology course. Those familiar with programming basics can probably start with this.
The pre-req courses don't change but the iOS courses are updated every year.
Learn iPad + iPhone App Development
If you are just starting out programming these two books are recommended:
Objective-C Programming: The Big Nerd Ranch Guide [Paperback
, 43% off]
Publication Date: October 28, 2011
iOS Programming: The Big Nerd Ranch Guide (2nd Edition) [Paperback
, 38% off]
Publication Date: July 2, 2011

Related Posts