Pro Photographer Recommends The World's Best Point-and-Shoot Camera: The iPhone!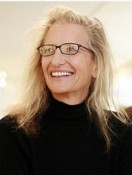 Annie Leibovitz (wiki) is one of the world's most famous and highly paid photographers, and as such she uses only the best cameras in the world, but when it comes to great point-and-shoot cameras Annie isn't shy about recommending what she thinks is the worlds best: the iPhone!
As Pocketlint notes, she is most famous for:
"….. her portrait photography of such subjects as Queen Elizabeth II, John Lennon (for the cover of Rolling Stone magazine, which was shot the day of his death), Michael Jackson, Bill Gates and many more, even went as far as to take a picture of Williamson on her iPhone 4 (or 4S). However, Pocket-lint has spotted that, pro snapper she may be, she left part of her finger in the way."
Below you can see the segment where Annie explains to amazed Brian Williams of NBC news that the iPhone is the best point-and-shoot camera in the world.

Watch the video on iOS with Puffin browser [$0.99, Universal App]. Flash stuttering? Wait until the video starts playing, then click full screen mode.
So, I guess the moral of the story is that if a world-famous photographer like Annie Liebovitz can proclaim that the iPhone as being the best dang-tooting point-and-shoot camera in the world, so can I. It may not be as good as a professional camera, such as Canon's fabulous new D1 X, but then again, the iPhone won't cost you up to seven grand either, but it will snap some of the best dang pictures you'll ever lay your peeps on, and photos so sharp and crisp, and so colorful that many people can't even believe they were taken on a smart phone, people like some commenting on these iPhone snaps seen here.
[OP: Annie's new book is Pilgrimage
. Freshly published on November 8.]

Related Posts