iPad Survives 1300 Foot Skyfall [video]
Trailer of sky diving James Bond + iPad in new 007 movie SkyFall?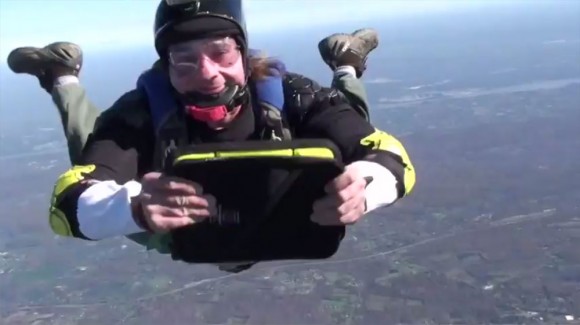 Video: iPad Goes Sky Diving
Latest demo from case maker G-Form of its rugged iPad Extreme Sleeve. This time, two sky divers dropped two iPads at 1300 foot (400 meter), while playing Pixar video "For the Birds". Although the case gets banged up, the iPads are still working perfectly.
Previously they demoed that the G-Form iPad case is bowling ball proof.
Available now: G-Form iPad Extreme Sleeve 2 costs $69.95, and is Smart Cover compatible. Original version for iPad costs $59.95. They also make impact resistant laptop sleeve at $79.95.
[via TUAW]

Related Posts