Download Links: iOS 5.0.1 Firmware Battery Life Issue Fix (Updated)
Apple released iOS 5.0.1 today for iPhone, iPod touch, and iPad. UPDATED: with Charlie Miller quote.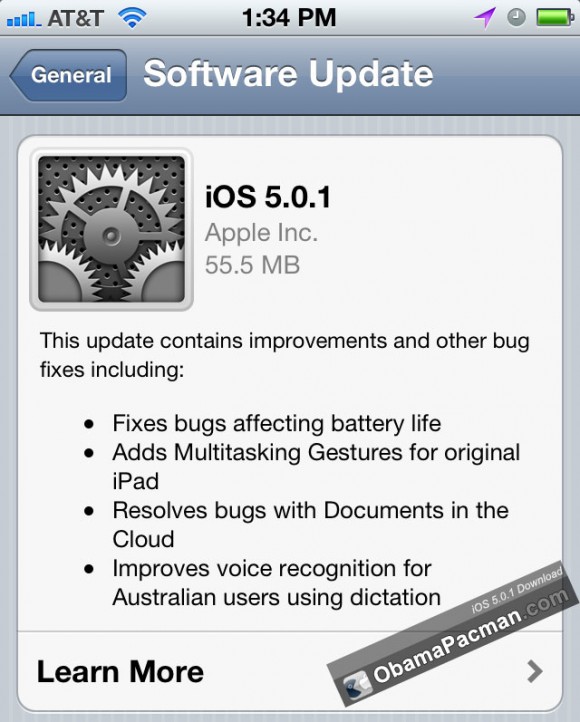 Apple iOS 5.0.1 notes:
This update contains improvements and other bug fixes including:

Fixes bugs affecting battery life
Adds Multitasking Gestures for original iPad
Resolves bugs with Documents in the Cloud
Improves voice recognition for Australian users using dictation
The update is now available over the air from your iOS 5.0 devices by going into:
iDevice Settings / General / Software Update
You can download and install the new firmware without iTunes or a computer. You might want to download on Wi-Fi.
Download iOS 5.0.1 Firmware
Download iOS 5.0.1 to be installed through iTunes:
Charlie Miller on iOS 5.0.1 Security Fix
Update: About the unreleased App Store / iOS code signing security flaw popularized this week, Charlie Miller @0xcharlie:
Apple released 5.0.1 which is supposed to fix the flaw I pointed out. Please upgrade to get the fix.
So that's great news for iOS security, but if you want to jailbreak iOS 5, you should not update to 5.0.1.

Related Posts