Google Maps Turning Evil: Now Serving Pop Up Ads
Google fails to deliver "relevant advertising" and interferes with the core principle of serving your search results first.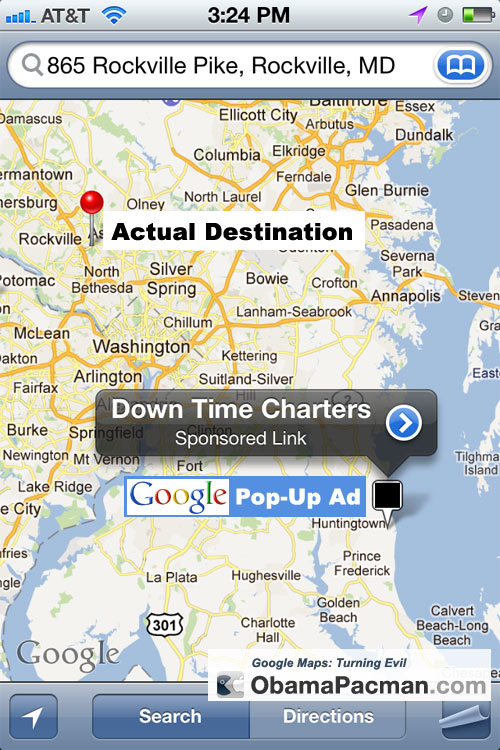 Google's "don't be evil" mantra promises no pop-up ads; reality shows otherwise.
Video: Google Maps Turning Evil
ObamaPacman searched for an address this week and this ad popped up on Google Maps within the iPhone Maps app. The address I searched for was:
865 Rockville Pike, Rockville, MD
The address is a Starbucks location. Google Maps' pop-up ad failed for these reasons:
1. It's not relevant
2. It's not even close (55 miles away)
3. The ad was given more prominence than the actual results (red pin). Some less technically savvy people might think that the ad is the actual result
Google Philosophy: Don't Be Evil
Here's Google company philosophy #6 "You can make money without doing evil", often known as the 'Don't Be Evil' mantra:
We believe that advertising can be effective without being flashy. We don't accept pop-up advertising, which interferes with your ability to see the content you've requested.
Perhaps Google is practicing end game self-termination due to Apple's recent purchase of 3D mapping company C3 technologies (possibly for the 2012 iOS 6). Or perhaps it's the same bugs that plague the Official Gmail App?
Can you replicate it on your phone? (Search for the closest city if this doesn't work for you). Let us know in the comments below.

Related Posts