EPIC: GAG Quartet Internet MEME Song [Made on Mac]
Nyan Cat, Trolls, Keyboard Cat… The epic music video with over 40 memes.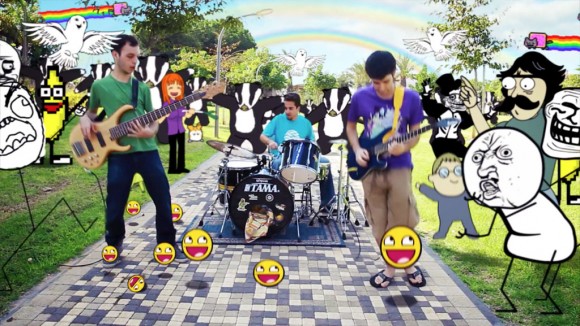 Video: Epic Internet Meme Song
Download song on iTunes, $0.99
The internet meme video by the Israeli group The Gag Quartet:
Gilad Chehover – Drums | Guy Bernfeld – Bass | Or Paz – Guitar

Recording, mixing, pianoing and feminine singing by Eyal Amir
Drums recorded by Martial Bouhassira

le Photography – Dafna Sasson
le Second Unit- Tamari Goddard
le Editing & After Effects – Or Paz
le Animation – Tom Trager
The great video has been viewed over 9000 times so far. Can you find all the memes?
Here are the ones listed on the video page:
NYAN CAT, TROLL, TROLL DAD, RAGE GUY, 4CHAN, FOREVER ALONE, REBBECA BLACK, FRIDAY, 9GAG, RAINBOW PUKE, TAC NAYN, TROLOLO, LOL, O RLY, ANIMATION, LEEK SPIN, YO DAWG, XZIBIT, KEYBOARD CAT, DOUBLE RAINBOW, CHACARRON MACARRON, SHOOP DA WHOOP, LAZER, FIRING MAH LAZER, NUMA NUMA, BADGER, CHARLIE BIT MY FINGER, PEDOBEAR, CHUCK TESTA, OBAMA, FUCK YEA, RICK ROLL, RICKROLLD, RICK ASTLEY, REDDIT, FUUU, THE GAME, CHOCOLATE RAIN, ME GUSTA, POKER FACE [OP: Lady Gaga inspired Apple Store lip sync kid + designer parody Neutra Face + Apple Girl cover]
OP notes some discrepancies:
Missed listing: It's peanut butter jelly time
Missed listing: "All your base are belong to us" from game Zero Wing, which is probably not "the game".
CHACARRON MACARRON is one meme but listed as two items.
We didn't know TACNAYN -> reverse nyancat is a meme but appearantly it is. By the way, dear ObamaPacman readers, you win the intertubes if you know all the memes. LOL.
Eyal Ami Video: Moves Like Jagger with iPad
The GAG Quartet music was recorded and mixed by Eyal Amir, a Mac & iPad using musician: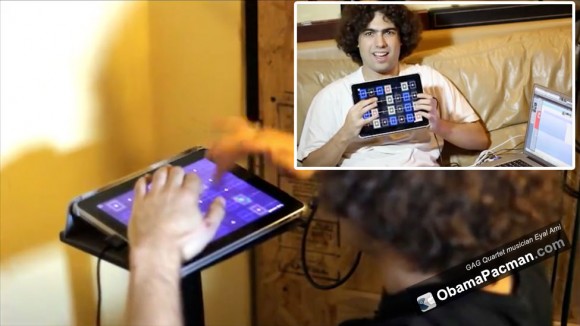 Video describes: Geo Synthesizer [App Store $9.99] for iPad was used as a controller, and sounds came from Geo's internal sounds, Spectrasonics Omnisphere, Fxpansion BFD and Steinberg Halion. Connecting the Midi gear to iPad (or iPhone) is iConnectMIDI. Mixed using Steinberg Cubase and Waves Plug-ins.

Related Posts