The Enterprise Market: Apple vs. Microsoft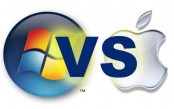 Writing for Computer World, Jonny Evans recently wrote how long time Microsoft booster, and one of its staunchest allies, Lifetime Products, recently decided to switch to Apple's mobile products and services and away from the Redmond's because, as its CIO, John Bowden said:
"We love Apple. The bottom line is that Apple makes great products."
iPhone + iPad in Enterprise
Lifetime Products isn't the only big enterprise company that is beginning to look more-and-more to Apple, while looking less-and-less to Microsoft for their enterprise solutions. As Mr. Evans goes on to point out how Lowe is also in the process of equipping its employees with over some 40,000 iPhones, and all equipped with the ability to allow its store staff to not only conveniently check inventories and product orders, but to also allow its employees to share how-to video with its customers.
In fact, getting back to Lifetime Products and its ten-thousand employees, one of the biggest reasons why Lifetime looked into iOS devices in the first place than its traditional supplier, was because more-and-more of Microsoft own employees were now personally using Apple devices than even its own!
Mr. Evans also goes on to out out some other pretty interesting uses for iOS devices being used by the following companies, including:
- Medical device manufacturer Boston Scientific has distributed about 3,000 iPads to its field sales people and expects to buy 1,500 more by the end of the year.

- United Continental, Alaska Airlines, Delta, and other airlines use iPads to replace heavy, paper-based flight bags.

- All Nippon Airways use iPads in training programs for flight attendants.

- Sonic Automotive is using iPad for customer check-in and analytics.

- General Mills has developed internal apps that their field sales teams leverage daily, and Siemens Energy use iPads for maintenance work at the top of their wind turbines.
Man, oh man, as we used to say back-in-the-day, would I ever love to see the expression on Steve Ballmer's face if he ever got to read Jonny's post above! Seeing Mr. Ballmer's reaction might be a little bit on the dangerous side, since some claim that he has a proclivity to throw chairs around when upset, but I still think it would be worth it, because as Jonny pointed out:
"This is a disruptive moment. The customarily conservative enterprise markets are melting, rather like the ice caps, flowing to favor solutions from the dominant platform provider of our day — Apple."
iPhone Beats Android in UK
Not only is the once unthinkable idea of Apple making significant in roads in the enterprise space amazing, but it also appears that Apple is also doing the unthinkable in Britain where iPhone (one of iOS devices) is now also quickly outgrowing Android, and according to Kantar Worldpanel ComTech, pent-up demand for the iPhone 4S has has been so great that it recently lifted Apple to the top spot, or a whopping 42.8% of the market in Britain, in what John Paczkowski called the "Battle of Britain.", or as he says:
"Apple took a whopping 42.8 percent share of all smartphone sales, giving it a significant lead over Android — a feat many thought was impossible," Dominic Sunnebo, global insight director at ComTech, explained. "With nearly a year and a half between iPhone launches there has been huge pent-up demand."
It seems that it was only yesterday that Mr. Steve Ballmer laughed at Apple and its iPhone. A year ago Galen Gruman, of InfoWorld, called Windows Phone 7 a disaster and even though Microsoft has made considerable improvements since then, it has been unbelievably selling even fewer Windows phones than it did a year ago!
Not only that, but there are now reports that even some of Microsoft's own evangelists are leaving to develop for iOS full time!
In the end, it doesn't really matter how Microsoft spins it, or how much Steve Ballmer laughs at Apple's or Google's competing products or services, or how much Fun With Numbers they'll have in order to make iOS and Apple look like they're losing, the fact remains that Apple is now beginning to win in the enterprise space just as surely as it did in the consumer space.

Related Posts