China Scalpers Still Line Up for iPhone 4 (not 4S) [video]
WTF? Scalpers still buying the 2010 iPhone 4, despite iPhone 4S Hong Kong launch.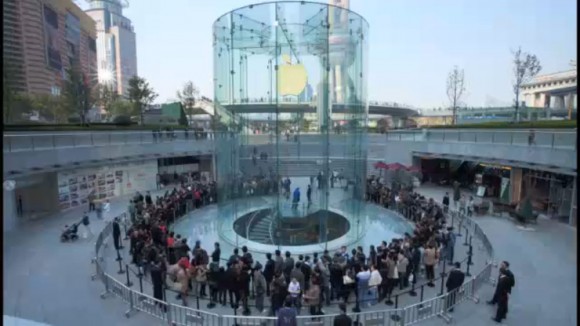 Video: iPhone 4 Scalpers, Pudong Apple Store
iOS video [on flickr]. Time lapse video shot for 1 day 6 Cities project.
Shot at Apple Store, Pudong Shanghai China by Min Wei on November 11, the day when iPhone 4S launched in Hong Kong to long scalper lines.
Shanghai correspondent Min has returned with some interesting shots of folks still lining up outside the Shanghai Apple Store to gobble up the iPhone 4, despite the fact that the 4S is already available in Hong Kong and should be making its way to the rest of China in December.
Scalping is lame. Hopefully the scalpers lose their money. However, Min Wei told ObamaPacman:
They won't. iPhone 4 will sell even iphone 4s comes out in China later this year since iphone 4s will be very hard to get by then for at least couple of months. By that time, all the iphone 4 will be sold out.
Apple should limit sales to 1 per person for cash, or up to 5 only for each credit card.

Related Posts