Buy No-Contract, SIM Unlocked iPhone 4S / 4 in US
Unlocked iPhone finally officially available for online and retail US Apple Store orders.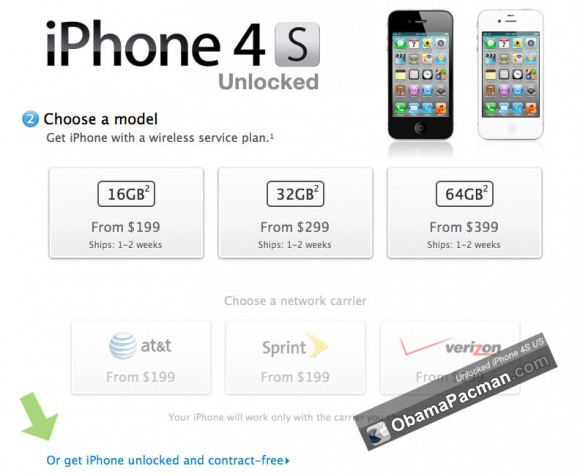 Previously, you can buy an unlocked iPhone 4S in US if you are willing to hit the stores. But Starting today you can buy one online. Prices for unlocked iPhone 4S are $649 16GB, $749 32GB, and $849 64GB. Apple also sells unlocked iPhone 4 8GB for $549.
Buy Carrier Unlocked iPhone 4S / iPhone 4
To buy, select a color on iPhone 4S or iPhone 4 order page. Instead of choosing a carrier, click the "Or get iPhone unlocked and contract-free" link. If you go to Apple Store, you can get contract free iPhone (if they have any).
To activate the unlocked iPhone, Apple says you need an active SIM card from an iPhone supported network (that means AT&T in the US):
If you don't want a multiyear service contract or if you prefer to use a local carrier when traveling abroad, the unlocked iPhone is the best choice. It arrives without a micro-SIM card, so you'll need an active micro-SIM card from any supported GSM carrier worldwide. To start using it, simply insert the micro-SIM card into the slot on your iPhone and turn it on by pressing and holding the On/Off button for a few seconds. Then follow the onscreen instructions to set up your iPhone.
If you plan on only using it on AT&T, then just get it with contract. The contract subsidizes a lower upfront price for your phone. Here are some reason to buy unlocked iPhone:
International travel
Use it on T-Mobile USA's cheaper but slower EDGE network (its network uses proprietary communication channels that won't work at full speed with standard GSM phones)
No contract
No credit check (just borrow the sim card from someone with AT&T contract to activate
And of course, the SIM unlocked iPhone is GSM carriers only (90%+ of carriers around the world), since CDMA cannot be unlocked.

Related Posts