Apple Supply Chain Secrets: Jony Ive Used Lasers as Competitive Advantage
Apple uses lasers to beat competitors.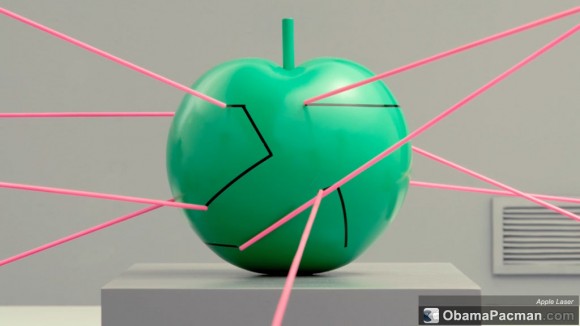 Business Week describes how Apple used a customized laser to make the impossible possible:
About five years ago, Apple design guru Jony Ive decided he wanted a new feature for the next MacBook: a small dot of green light above the screen, shining through the computer's aluminum casing to indicate when its camera was on. The problem? It's physically impossible to shine light through metal…

Most of Apple's customers have probably never given that green light a second thought, but its creation speaks to a massive competitive advantage for Apple: Operations. This is the world of manufacturing, procurement, and logistics in which the new chief executive officer, Tim Cook, excelled, earning him the trust of Steve Jobs.
The dots are so small, they are almost impossible to see when the lights are off. None of the competitors can even copy it, because Apple has exclusive agreement with the laser makers. Coming up next:
Apple plans to double spending on its supply chain, to $7.1 billion, continuing its focus on streamlining and controlling manufacturing.
The Business Week article also reveals other Apple supply chain secrets.
Illustration from Apple Core stop motion video.

Related Posts