Evolution of Apple Store Storefronts
Photos of all Apple Store locations, sorted by opening date, one one page. Perfect for architecture & design connoisseurs.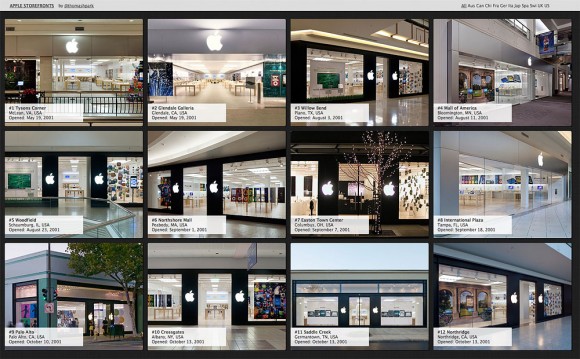 The creator, web developer and designer Thomas Park compiles all Apple Store photos:
Scanning the gallery, you can see that Apple follows certain conventions, but isnít shy about breaking them. Theyíve tweaked things here and there, and are quite audacious with their flagship locations.
Gallery, text searchable (even reflows depending on screen size):
It of course includes all these
Tysons Corner (demoed by Steve Jobs in 2001) and Glendale Galleria (May 19, 2001)
Fifth Avenue Cube (May 19, 2006)
Carrousel de Louvre, Paris, France (November 7, 2009)
Covent Garden London, UK (July 31, 2010)
IFC Mall, Hong Kong, China (September 24, 2011)
The black store fronts are the older designs. Newer designs have aluminum. Some stores such as the original Tysons Corner have since been renovated with new designs.
This seems to be the smallest Apple Store: #270 Oakridge Mall, Vancouver, Canada (opened September 26, 2009).
Thomas Park notes that the images were downloaded from Apple with Beautiful Soup.

Related Posts