Apple Store Employee Training: Rap Musical [Video]
Apple Store rap (not the lip sync kid) revealed the secrets behind the Apple Store back room / Red Zone.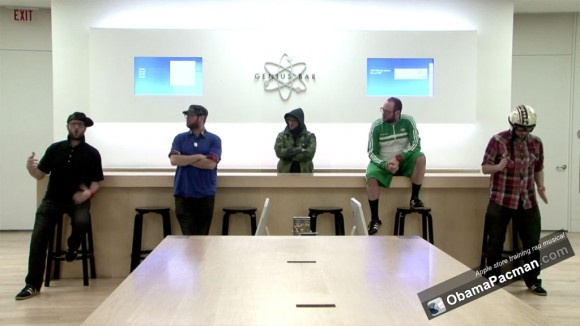 Video: Apple Store Training Musical
The original video is in HD 720P but removed. We downloaded a copy using the YouTube / Vimeo video download guide. But someone uploaded a smaller version of the video:

Macrumors reported:
This video was produced by the staff of an Apple Retail Store as an entertaining way to teach Apple's customer service strategy. That strategy, based on one from the Ritz Carlton hotel — widely acknowledged as the gold standard in customer service — allows Apple Retail Store employees to assist customers without pressuring them to buy.
The unofficial video was posted by former employee Kyle Sisson as part of his editing portfolio. The rap musical touches on part of the 5 day core training course of Apple retail:
A – Approach the customer with a "warm welcome"
P – Position, Permission, Probe — Tell the customer what you want to do, ask permission, and then ask them questions to determine their needs.
P – Present the appropriate product solution that fits their needs.
L – Listen to their concerns.
E – End with a fond farewell and an invitation to return.
The video was shot at R027, which stands for Rockingham Park Apple Store of Salem, New Hampshire.
Music Video: Apple Store Easy Pay
This is not the first Apple employee created video that got leaked. A Mac Genius showed me this "Easy Pay" video many years ago. The Haddaway – What is love – based video was created at Apple Store Glendale California:
Music start about 1:10. EasyPay is hand held checkout device that Apple had before replacing it with iPod touch Point of Sale device.

Related Posts